I like the vehicle. It seems to be a good purchase as of now with no niggles and problems.
BHPian shresan23 recently shared this with other enthusiasts.
Hi, my fellow BHPians. This is my first review here. I recently purchased a BGauss B8-li electric scooter and after noting that there wasnt a hint of this scooter in this entire website, i decided to help out those who are looking to buy a low cost electric scooter. This is fairly long due to two principal reasons,
So kindly bear with me.
The Prelude:
I wanted a scooter very badly. My dad, the principal financier, was against it, stating that a car is 1000000000000000 times safer than a bike ( with regards to passenger or driver safety he thinks). While this is true, there was a caveat.
So we ended up zeroing in on bikes. With my father being very much against it. Gear bikes were also omitted due to a health issue on my part. With gear bikes out of the picture, all that was left was ICE scooters or electric scooters.
Being the cheapskate that i am, i decided it would be financially worthwhile to spend extra on an electric bike initially and save up on fuel, annually.
There was also a factor of inflation, interest and fuel prices going up. I lectured my parents for atleast a couple of hours straight and it ended with them begging me to stop.
So hence, electric scooters came into my purview.
The Choices
So to those who are still unclear on the electric bike market front,
Electric scooter market is bifurcated into two segments.
The second type has two segments. There is no specific name for it in the market, so i will explain it as lucidly as possible in the further paragraphs
With safety being in mind, my dad pushed for the less than 25 kmph type. After test driving a few,
I decided that those vehicles are completely worthless if your daily commute is anywhere over 2km. My daily commute is atleast 20 kms and i required a faster vehicle.
Hence came the 2nd type. The 2nd type has two segments which are based on any of these factors.
Again, iterating the fact that i am not a very good spender, i had my mind fixated on the 1st segment of the 2nd type. The ones that are below 1 lakh rupees, go to a max speed of 60 and dont have those unnecessary tabs in the dash.
Even then i decided to check out the other segment, to atleast know what i am missing. The ones i checked were,
Ather 450X ( from a friend)
Pros:
Good Styling and impressive kit with good balance
Nice pull and torque
Satisfying Range
Cons:
Not solid ( i felt so )
Overpriced for what it offers. ( it stands at a whopping 1.5 lakhs)
Battery heating ( maybe for that piece alone)
Waiting period of 90 days or more.
Revolt Rv400 (from a friend)
This bike styled electric scooter was impressively good. I loved the styling and the motor. The range also beat ather's by a huge margin. Though it did not have a fancy touchscreen on front, there were many features like custom vehicle sound etc. Only thing was,
Ola S1 Pro (friend's)
This was before all the fire incidents. The vehicle was good, with an impressive kit and very good balance.
One thing was, the bike didnt seem sturdy. I felt rattles and loosening while going over a hard bump at <20kmph. And the waiting period was close to 6 months at that time.
Didn't check other players like TVS i-cube and Bajaj Chetak as they seemed too expensive for their features in the first place.
So barring that segment, i went on to my preferred segment.
I checked out a lot of vehicles,
The entire catalog of Hero Electric, Pure Ev and Bgauss.
Hero Electric Optima had lesser waiting period but wasnt sturdy. Photon had a waiting period of 6 weeks. Nyx was sturdy and had the best range in the segment. But had 3 months and more waiting period.
So the final was between PureEv and Bgauss.
After much deliberation, two vehicles came to light.
PureEv Epluto 7g
Bgauss B8
Apart from small specification differences here and there, the only factor now was price. After a lot of Indian bargaining, the price was brought down to 84000/- on the Bgauss B8 and was finalised. I requested for a mint green colour which wasn't available, so they needed a week for transit and RTO stuff.
Well, it finally arrived
I must say, the wait for the colour was worth it. It turns heads even today and it looks good on the road.
So, is the bike only a beauty on the outside? Or does it do something on the inside?
Well, read on!
So right off the gate, the vehicle is light. Unlike many other vehicles i "interviewed", this one doesnt require much of effort to balance.
The fittings are tight and sturdy when compared to any other electric bike on the market.
After this, the much awaited review.
Design and Styling
Like i said before, the vehicle in itself is beautifully styled. With straight geometric lines and a straight body without unnecessary protrusions. I personally liked the led lights all around the bike As far as design goes, one of the most aesthetically designed bikes i have come across, after the ICE Fascino.
However, this department is not entirely void of problems.
The side stand, though placed flush to the body, is extremely short and upon full extension, the vehicle stands on a very dangerously low angle. This leads to usage of the center stand which i should say, is good and practical.
The DRL, which is surprisingly more than enough to light up roads at night. Haven't found a way to switch it off during the day.
This one is the dipper, SA said. This one is useful even during the day and if you ask me, should have been the DRL.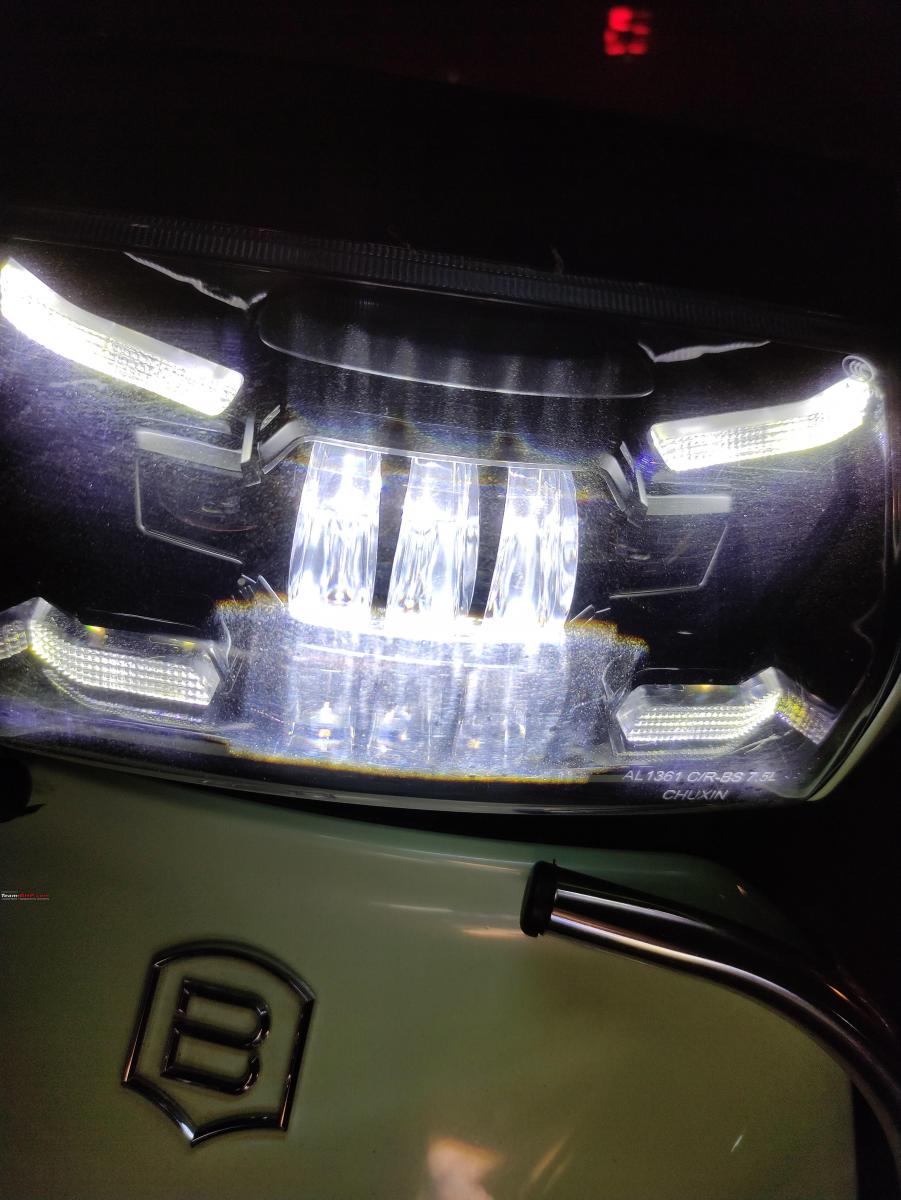 This is the High Beam, I've never needed to use it. I turn it on only when i remember that i have forgotten about such a thing in the bike as the DRL itself is pretty bright.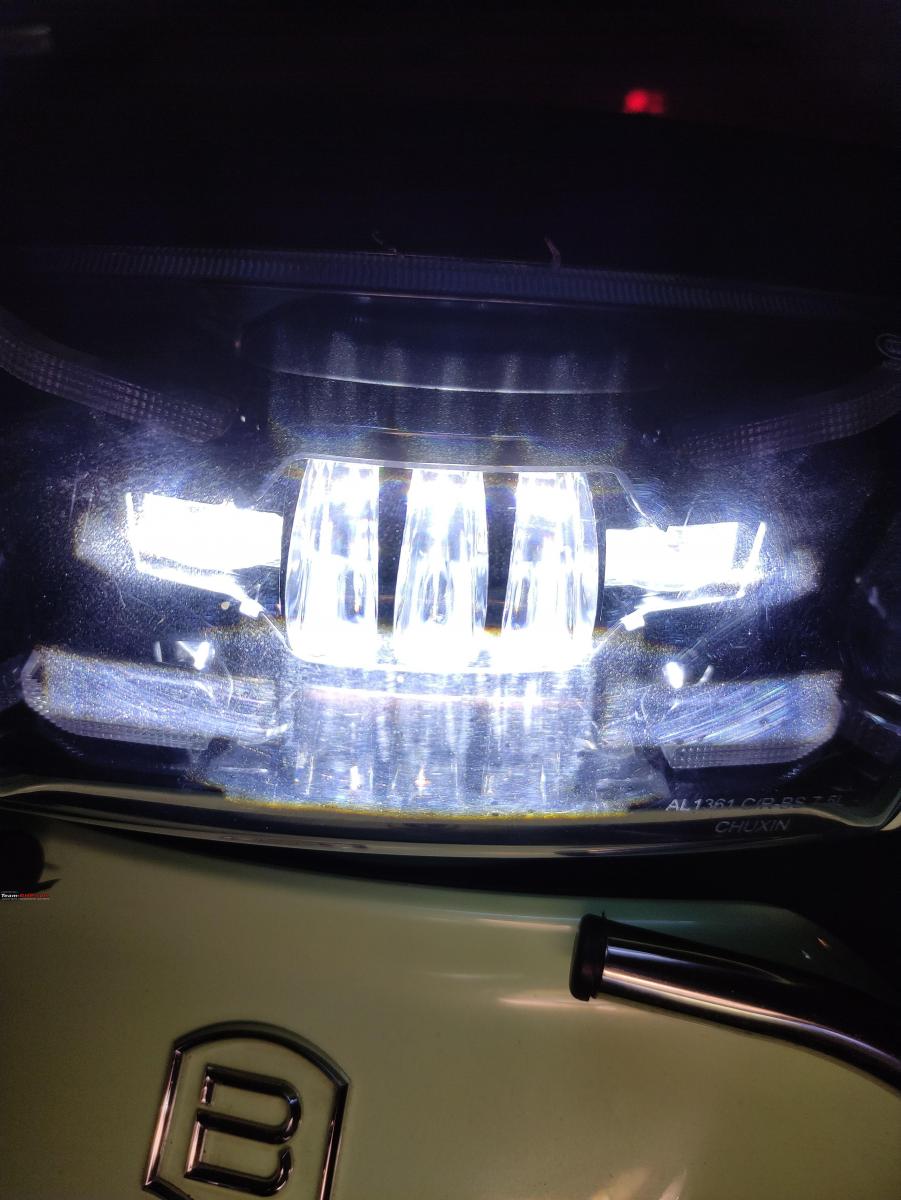 The rear lights. Fully Led and there is an option to turn it on and off, like a parking light in a car. The lights still burn if u pull the brake, but wont be illuminated otherwise, great battery saver.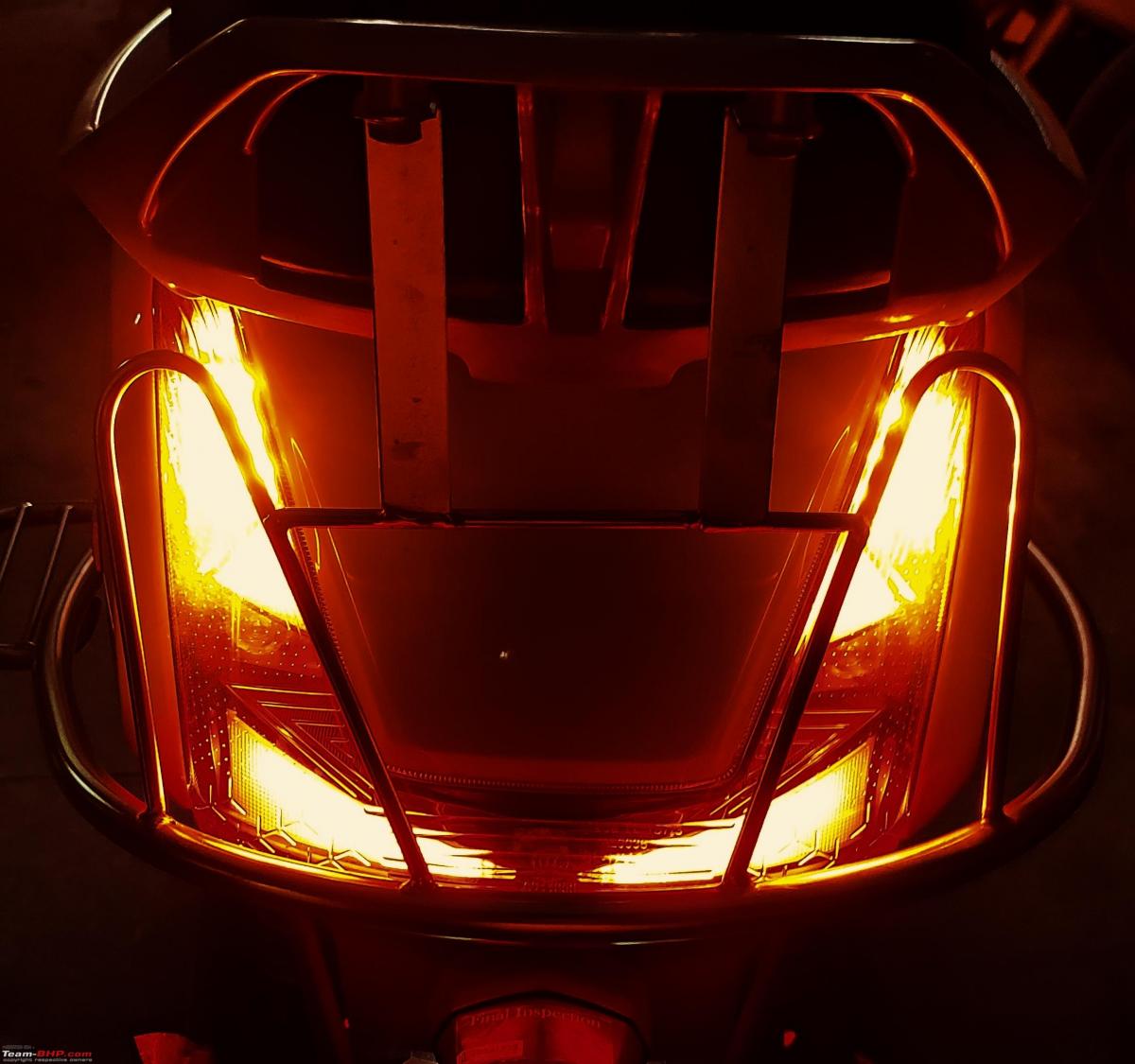 The boot or storage area is not available. I purchased the double battery provision with a single battery bike ( for a big if) and hence i get a small cubicle under the seat where you can place small duffle bags or the charger etc
Forgive me for the poor quality as it was taken in my phone at night.
There is a storage unit in front for keeping your wallet or the key fob or your phone in case it is charging via the port given in the front. I havent used the charger, but seems to be okay.
On the left hand side, the top layer houses the high beam and low beam buttons. The light comes on default in low beam, while the high beam is to be used to avail the high beam.
Below these are the left and right indicators.
The last row houses the horn and reverse buttons. Not sure if it is visible in the picture.
On the right hand side, the top layer has the hazard lights and boost buttons.
The middle layer has the parking lights and beam switch
The lower layer has a dummy switch and mode switch.
All the buttons are tactile and nice to look at and feel nice, for about a week.
I would have loved softer buttons. The top and middle row are soft and can be tapped lovingly to enable their functions. The last row on either side become a pain as they are flat and hard. Tapping wont help and requires more effort to be enabled or used. Often i have found myself tapping at the horn for a quick beep while overtaking and received no response as the horn button is irrevocably hard.
One good part about the storage unit in front is that, i drove it in heavy rains while my phone was kept in that unit in front. When i came home and took my phone out, it was d-dry. It is not closed as you can see, so this came as a sweet surprise
Information Display
Fully LED and bright blue which ensures readability in heavy sunlight. I live in Chennai, so there is no scarcity for sunlight and never have i had the need to focus on the display to read it. The speedometer is huge and almost accurate. I say, Almost. Many a time i have noticed myself going in much higher speeds while the speedo showed a lot less.
The Odometer is accurate and also doubles up as a battery charge indicator. How?
You see, on the left side of the odometer is a series of bars that serve as a battery level indicator? Yeah? That one is practically useless as soon as the charge levels go south of 75%. Those bars frequently go up and down with every throttle input and makes reading it a pain. Once, i accelerated to overtake a slow moving bus and those bars reduced to 2 nos from 5 nos instantly and as soon as i panicked and let go of the throttle, it increased to 5 nos. Then it proceeded to increase and decrease relentlessly and without cause as if it had a mind of its own. The bars stay put untill the charge levels hit 75%. As soon as it goes below 75%, this weird magic meter starts.
So, i rely on the odo to check how many kilometers i have run, to calculate when to charge. I really should say, this thing makes the bike feel a bit outdated.
Apart from that are the indicators for various functions like the left and right turn signals, battery low warning, high beam indicator, brake indicator.
One thing i didnt like here is the fact that the indicators dont give a tiny chime or anything. During sunlight, the indicators alone are a pain to fathom so, i end up keeping it on without remembrance.
Apart from this, there is a ride time indicator and a temperature gauge and that weird ready thing, that says when you can twist the throttle.
The ride time indicator is useful to calculate how much time i rode. My commute daily is 8 kms up and 12 kms down. In the afternoon, it takes not more than 12 minutes to cover the "up" part. Traffic hinders progress and increases the time to 30 minutes while coming back (10km part).
Temperature Gauge could have been avoided to include a digital battery level indicator. The Temperature is practically useless in a bike if you ask me.
Motor, Noise, Vibration, Performance, Range
The motor is powerful enough to carry two people if needed, though not recommended. With the rated carrying weight being 150kgs, a healthy adult, and some heavy sacks is all that it can carry
Inclines are handled smoothly and without any groans. With the boost, there is a good push if at all you may need it.
There are 3 modes, namely, yes you guessed it right!
Mode 1
Mode 2
Mode 3
Now this is where things get complicated. If your battery is above 60% roughly,
Mode 1 takes you to 45 kmph with the motor showing no signs of strain.
Mode 2 takes you to 50 kmph with the motor easing.
Mode 3 takes you to 56 kmph with the motor showing some strain after 53.
Now these figures are horrendous as the user manual showed, 38, 42 and 50 respectively.
Now, to clear the air. If the battery is below that 60 mark,
Mode 1 goes to 36 and then strains to 38 and goes to 40 if it feels so.
Mode 2 goes to strictly 40
Mode 3 goes to 45 and reluctantly goes to 48 and caps out.
Performance too changes according to battery level.
If the battery is anywhere between 100% and 60%, the vehicle is chippy and fast. Small throttle input jerks you forward and the speedo will show 30 and 40 in no time. The motor feels fully juiced and shows no strain in any terrain or incline.
When the battery level drops, the performance too drops. The jerk that one would have felt at full battery will definitely be missed. Simply because, below 60, a majority of the battery is transferred to reserve, leaving some for present commute. The motor strains for even low acceleration and incline climbing becomes painful at best.
Noise is minimal. There is a satifaction when you hear the hum of the bike when it is at peak.
Vibration kicks in after 35 and also when the regeneration takes place (more on it later)
The boost button is hideous at best. It is unresponsive at low speeds and works only when the speed limit of each mode has been attained which is somewhat confusing and also understandable at the same time….?
At full battery, there is no difference between modes and the only time you find out about the modes is when the accelerator abruptly cuts off at the speed limit.
Things become interesting when the battery drops.
Mode 1 feels sluggish and practically useless, unless you want more range.
Mode 2 is better but does not give power when needed and you need to take a check of the speed, to check if you have room to overtake( due to the abrupt input cut)
Mode 3 is better and useful. yes, performance is hugely dulled, but mode 3 pulls all the juice and gives some practicality.
All in all, satisfied with performance.
Range:
Due to the impractical indicator, i check the odo to charge. Essentially tankfull to tankfull
Mode 2 goes to 55kms
Mode 3 goes to 50- 52 kms
This type of differentiation, gives you peace of mind to drive in the 3rd mode itself. Wont be gaining much by sacrificing zippiness.
This is the range i take it to. I charge it when the odo shows these numbers, based on the mode i was travelling in after the last full charge. I have never milked it, but have taken it to 20% and below.
Regeneration
Despite what others say about the regenerative braking, it is not like engine braking. In EV Cars, yes. In bikes, there is one small motor sound and vibration that comes in and regenerates your battery.
This regen does no wonders, there is no considerable increase even after you let go of the throttle downhill. The SA said that it helps with the boosting.
I don't know. Seems to be of very little help as of now.
One sweet tip. The brake indicator comes on and cuts off accelarator if the brake is engaged. But, if the brake is engaged at only 15% or less, no indicator lights up, meaning? more regen.

Balance, Ride
Now this is something that the vehicle is a king of. The sub 5 kmph balance is impeccable. There is no need to put your legs down at very low speeds unless you brake.
The banking angle is quite good, although not as good as ICE gear bikes.
I attempted to go as low as possible at a curve and i should say that the bike handled it well, although it gave me a very good scare.
The battery placed in the centre, seems to offer it such balance. But it may also be the overall design of the vehicle too.
Not a plush ride. One can definitely feel everything on the road but manageable for its price and weight.
Rated carrying weight is 150kgs. I dont take a pillion but, one average adult and one skinny adult is all that it can carry. Even then, with a significant drop in battery.
Braking
One place the bike falls or fails to impress. It has this Combined Brake System which means, both the brakes function as one. Pulling the left hand side brake hard, will find you on the road, ironically as it buckles the back wheel.
Proper braking is achieved by pressing the left brake a bit and then holding the right one. Slight tapping of the left brake helps with small reductions in speed. The cutoff while the brake is engaged is a pain while in traffic because of the intial torque.
Please take the above point in braking very seriously as i have found myself losing balance and somehow not falling due to this new system. CBS may not be new, but getting used to it takes time.
Charging
Takes 3 hours maximum. The total cost may differ in different cities. No home unit is provided as the whole thing may be charged in a 5 amp socket using a normal 3 pin plug. Plug it anywhere and charge anywhere. As easy as that.
There is this humongous box, the adapter which cools the battery and the charging unit.
Charging is no pain really, but no fast charging is provided. So, trips must be planned accordingly.
Battery weighs about 15 kgs and can be pulled out and taken home to charge.
Yes, the battery is safe.
Disclaimer
EV owners back me up here.
We absolutely hate it when people come up to us and ask doubts about the vehicle. People swarm around and ask questions that are readily available in the internet. Yes, owner's touch is good, but not at the expense of the privacy and time of the owner.
With me its particularly infuriating due to the odd colour. 5 or 6 people swarm and ask the same questions over and over again.
Of course i am happy to help others over a thing they are not familiar with but not at the expense of time.
I was once stopped by a traffic policeman while going to college only to be asked questions about the bike.
Conclusion
I like the vehicle. It seems to be a good purchase as of now with no niggles and problems.
Should you go for it?
Its your call.
Seems to give me a good value for the money spent. I should say that i am happy with it.
One service was done at 200 kms or so. Costed 250 bucks and the battery was fully discharged and recharged to check its potency.
Comment down below if you have any doubts and i will be more than happy to help out prospective buyers
Read BHPian comments for more insights and information.
Source: Read Full Article