The Fowler family puts the funky all-electric Citroen Ami to the test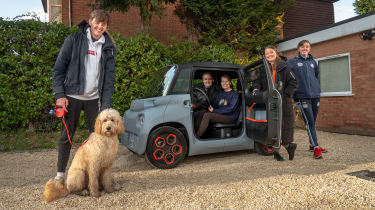 4.0 out of 5
Verdict
The Citroen Ami suits the sharing generation perfectly – those who want to share a car and their experiences on social media. It's clearly not without its limitations, but as a low-cost and easy-to-use part of a family fleet, whether that's to ferry family members around locally or get someone to the station, it's ideal. It makes you smile when you're driving it, and it makes people smile who see it. Let's hope the Ami can become commonplace in the UK's towns and cities to get us all smiling.
We're often told by auto-industry folk that cars will change more in the next 10 years than they have in the past 100, with electrification, autonomy, connectivity, car sharing and urbanisation all buzzwords that are often bandied about.
One thing that's for sure is that the past year has changed our car-owning and driving habits, and my 22-mile commute into and out of London is – for now – a thing of the past. The same has happened to the rest of my family; the journeys we take have changed, yet we still have the same number and types of vehicles at home. So how would it work if a small EV sat on our driveway for any member of the Fowler Five to use? And what if that car was the Citroen Ami? 
New 2022 Toyota Aygo city car spied in the snow

It's officially a quadricycle with a top speed limited to 28mph and a range of approximately 43 miles. However, for nipping around locally it could be ideal – the perfect runaround for our family bubble.

More reviews

Car group tests

Abarth Punto vs Corsa SRi
Jaguar XE 300 Sport vs Alfa Romeo Giulia Veloce
Alfa Romeo Stelvio vs Jaguar F-Pace
Alpina XD3 Biturbo vs Porsche Macan S Diesel
BMW M2 CS vs Porsche 718 Cayman GTS vs Alpine A110 S
Audi TTS vs Alpine A110 vs Porsche 718 Cayman
Ariel Nomad
Aston Martin DB11 AMR vs Bentley Continental GT
BMW 5 Series vs Audi A6 vs Volvo S90
Audi S3 vs Mercedes-AMG A 35
Audi S3 vs Mercedes-AMG A 35
BMW 5 Series vs Audi A6 vs Volvo S90

In-depth reviews

Abarth 124 Spider review
Abarth Punto (2008-2015) review
Alfa Romeo Giulia review
Alfa Romeo Stelvio review
Alfa Romeo 4C (2014-2019) review

Long-term tests

Honda e: long-term test review
Land Rover Discovery Sport D180: long-term test review
Renault Clio Iconic: long-term test review
SEAT Leon e-Hybrid: long-term test review
SEAT Mii electric: long-term test review

Reviews

Road tests

New AC Cobra 378 Superblower 2021 review
New AC Cobra 378 review
New Alfa Romeo Giulia GTAm 2021 review
New Alpine A110 Legende GT 2021 review
New Aston Martin Vantage F1 Edition 2021 review
New Aston Martin Vantage Roadster 2020 review
New Callum Vanquish review
New Audi A6 50 TFSI e 2020 review
New Bentley Continental GT Speed 2021 review
New Caterham Super Seven 1600 2020 review

Used car tests

Used Alfa Romeo Giulia review
Used Bentley Bentayga review
Used Bentley Continental GT review
Used DS 5 review
Ferrari 348: Buying guide and review (1989-1994)
Ferrari F40: Buying guide and review (1987-1992)
Ferrari Mondial: Buying guide and review (1980-1993)
Used Fiat 500 review
Used Fiat 124 Spider review
Used Honda CR-V review

The Ami is on sale in France and Italy, with Citroen UK assessing whether it should bring the car over here, with a potential price of around £6,000. Citroen UK chief Eurig Druce has told us he's 75 per cent certain it will come here, while his boss, Citroen CEO Vincent Cobée, told us recently: "To me, this is something that should happen."

So even in left-hand-drive form, can the Ami be a success in the UK? Over to the Fowler Five to find out…

Steve Fowler

Editor-in-chief, Auto Express

While working from home I've had myriad cars turn up on my drive, but there's only one that I took out and about the moment it rolled off the trailer – the Ami.

Let's give you a bit of context first. As the price suggests, it's pretty basic transport. Clever, but basic. And much of that cleverness adds to the appeal. The Ami is made of plastic, so it's lightweight – until I get into it – while there are only a few panel mouldings. The front and rear are identical, save for the different lights (red at the back, white at the front), and there's only one type of door, which means it opens from the front on one side and the back on the other. There is a lot of glass, too, although the side windows are split horizontally and flip upwards to open, 2CV style. The Ami looks like nothing else, which means you get stared at and photographed constantly. I can't say that has happened to me in a £6,000 car before.

It's also a model that – assuming you're not in a 20mph zone – you can drive flat-out and not worry about breaking the speed limit; it won't even do 30mph. Admittedly you can end up with a queue of traffic behind you on 40mph roads, but (I hope) those behind you tend to be smiling.

The ride is bumpy, but with a tiny turning circle and sharp steering you're having too much fun to worry about that. And it's not quiet, either – you can hear conversations going on outside the car (usually about the car), and the sound of whatever the tyres flick up echoes a bit.

But it's brilliantly light and airy. Unlike most cars' panoramic roofs, the glass panel sits ahead of the driver, giving a great view up and out. You just have to get used to the rear window being right behind you when you look over your shoulder. Oh, and there's no rear-view mirror, just cute door mirrors.

Citroen has made the Ami easy to operate – although the push-button door release is a bit stiff. Once you're in, you just turn the key, wait for the beep, select drive and off you go. The headlights stay on permanently, but you do have to cancel the indicators manually once you've turned.

It's not great in the wet, not due to any loss of traction but because the one wiper and single-speed blower aren't the best at clearing water or mist, so hampering visibility. And with no radio and just a handy holder for your tech, you'll have use your smartphone for entertainment. The dash has Lego-like accessories, while forward of the passenger seat (set slightly behind the driver) is space for one a small flight bag. And I can confirm that Sky the Goldendoodle fits there, too!

Charging up is simple. A decent-length cable hidden inside the door plugs into a conventional socket, and the 5.5kWh battery can be replenished overnight.

So would I buy one? Well, for a quick trip to the bakers or even when I went for my Covid jab, taking the Ami was a no-brainer. As part of the Fowler fleet, yes, I could see a home for a car such as the Citroen.

Victoria Fowler 

Nursery school deputy manager

While I'm not normally the slightest bit interested in most of the cars Steve brings home, I'll admit to wanting to have a go in the Ami. And as the nursery where our daughter, Gemma, and I work is not quite two miles from home, I thought I'd give it a try.

I have to say, I quite enjoyed driving it – the left-hand-drive layout didn't bother me as much as I thought it would, and the car was really easy to use, with great visibility. We did have one slight problem when we arrived at work, though. We had to call Steve to find out how to open the doors – there are no internal handles. As it turned out, the driver opens theirs by pulling a strap on the dash, while the passenger pulls a similar strap positioned over their right shoulder.

I'll come to my final judgement in a moment, but what I can say is that the car was a big hit with the kids at nursery. They absolutely loved it, asked a lot of questions and, of course, got the mums and dads talking about it, too. So would I want to use one every day? No. I like a bit of luxury, and would rather spend £6,000 on a used car with a few more creature comforts.

Jack Fowler 

Apprentice at Wycombe Wanderers Sport and Education Trust

I took the Ami on its longest journey from home, to Adams Park – home of Wycombe Wanderers FC, where I work. Although I'm mostly working from home at present, a couple of colleagues saw that we had the Ami and really wanted to have a look, so we arranged to meet.

Adams Park is about 12 miles away from home, and I normally nip up the M40 to get there – but I had to plan my journey to avoid the motorway and stick to 30mph roads wherever I could.

I really enjoyed the drive, and I soon got used to the left-hand-drive layout – although I'd have to go through any drive-thrus in reverse. The car is so small this doesn't really make any difference, and the view out is good enough for me to place it in the middle of a lane. It's really easy to park, too.

Most importantly, my colleagues Mark and Billy thought the Ami was cool and gave it a big thumbs-up. It's the same from me – I'd definitely use one locally if we had one, although I'd carry on driving my VW up! to work so I can go on the motorway.

Harry Fowler 

Tottenham Hotspur tour guide

When I'm working I commute from our local Underground station, and the Ami would be the perfect transport to get me to the train on time. I, too, was a little apprehensive about it being left-hand drive, but this really didn't bother me. I really enjoyed driving it locally, and the attention it got was incredible – I can imagine what it must be like to drive a Ferrari and be stared at all the time, only I suspect the Ami would receive even more smiles.

A lot of my journeys were with my nan on board – she lives in a granny flat attached to our place. She likes to stock up at the local supermarket, so I gave her a few lifts in the Ami as well as took her to the doctor's – just the sort of journeys the car is made for. She liked it, too, and could see herself driving one around rather than the much bigger C4 Picasso diesel she owns at the moment.

I'm probably much more likely to buy an Ami than Gemma because of my commute to the station, but I suspect if it was on our driveway I'd have to wrestle the keys from my nan to use it regularly.

Gemma Fowler 

Nursery school assistant

I couldn't wait to have a go in the Ami and, of course, I couldn't resist sharing pictures on Instagram, too. Once I'd worked out how to start the car and, crucially, how to get out of it, I really enjoyed buzzing around the local villages in it.

I was wary on a couple of 40mph-limit roads that I was travelling at well under that, but as long as you don't hold up traffic for very long, I don't think people mind too much. I like the idea of using my smartphone instead of having a screen, because that would add to the cost, and although the Ami's cabin is really basic, it's pretty cool.

We did have one issue when my dad and I popped out to pick up a takeaway. The Ami was low on power and, although we had enough charge to get home, it went extra slow to make sure we got there. Thankfully the takeaway was still warm.

Would I buy one? Probably not for myself. But if we had one sitting on the driveway, I absolutely would use it – and probably quite a lot, too.

Looking to go electric? Check out the best fully-electric cars on sale now…

Source: Read Full Article