Fit finish and quality is as you'd expect from a Suzuki. I feel it's better than Yamaha, coming from a Yamaha after living with it for 8+ years.
BHPian VijayAnand1 recently shared this with other enthusiasts.
Prologue: (Bikes Considered)
Budget bikes new:
RE Metetor 350.
KTM ADV 250.
Jawa Scrambler.
CB 300.
CB H'ness 350.
Mid segment used:
Ninja 650.
CBR 650F.
Ninja Z900.
Versys 650.
Excessive OCD/Wannabe triggers – used:
ZX-10R (Was so bad, I had recurring stargazes every night).
Street Triple R/RS.
Used MT-09 (A pipe dream).
Why the V-Strom?
The bug, the ADV wagon wheel and to reel in the glory of it. Little did I envisage what started as side-swiped glances every now and then, eventually would grow all authentic and stand right in front of me compelling me to sell my baby R6. It's in those little frantic moments, you realize, sometimes all that exasperation and desperation does lead to a right decision.
Starting off with budget bikes, the decision behind considering them and striking it off, all in brief.
Let me state the obvious. Opine chronographed here is purely of my understanding and experience at the time contemplating this thread. YMMV.
RE Metetor 350:
Pros:
Decent presence.
Comfortable riders triangle. In fact, there's no triangle, you sit upright and enjoy the movie in front of you.
Favorable pricing.
Butch looking for what it has to offer.
Cons:
Poor brakes. Not confidence inspiring.
Abysmal headlights.
Twitchy front end. The bike flicks at the thought, but doesn't hold steady, maybe I'm used to the R15 and other sports bikes… a downer.
The J series engine is punchy and decent, but mediocre in every other aspect.
Fit, finish, quality typical RE, all that drama comes to a stop after the second free service. Plus, being an ex-Himalayan owner, the recipe for what's in store was etched. Strike one. Matter of fact, was chuffed to strike this brand out of the equation for a second time. Weren't for "buts" the test ride itself shouldn't have happened. RE's aren't long term in my books. Strike 1.
KTM ADV 250:
Pros:
Great presence.
Hard to distinguish between a 250 and 390, other than a trained eye.
Typical KTM goodies, excellent brakes, good suspension, good hardware throughout.
Sans most of the electronic goodies that the 390 has to offer.. a plus in my book, if I may and the nitties.
Cons:
Long handlebars doesn't feel right.
Heavy front end feel at crawl speeds.
Quality of the parts feel and finish just doesn't feel right. Didn't inspire like a long termer.
The typical low end lag of the 250. Strike 2
Yezdi Scrambler:
Pros:
Exciting colors.
Tinseltown design philosophy
The entire recipe is pretty much similar bin parts separated with tweaked frames.
Cons:
Pillion seat is a design flaw, as much as the ribbed contour adds to the aesthetically inclined, ergonomically it's a pain in the posterior.
The fit, finish leaves light years of improvement.
The chassis welds, rivets, fasteners all leave a lot to be desired and executed. And so I walk out of the showroom without even a test ride, the Jawa test drive memories resurfaced, which ultimately meant, it's a sad strike out. Strike 3.
CB 300F:
Pros:
Butch looking machine and great road presence, especially the quarter-side view.
Comfy seats. Reminds me of my CBR250R, the seats, both pillion and pilot both exactly feel and padded the same.
Good fit and finish, barring the convoluted flasher and horn switch.
USD forks.
Had the opportunity to ride the bike for less than half a KM, very satisfactory low end, low end grunt, and picks speed very fast.
Overall for the discounts offered, a tempting offer. But..
Cons:
The engine does feel strained at the upper end. Not a diss, but not a strained naked thumper again.
Resembles the X-Blade and the Hornet to a great extent. Strike 4.
CB350:
Pros:
Fantastic seating posture. You sit in a sofa with a Honda thrumming underneath.
Creamy, long stroker with an addictive intake growl and whine, typical Honda.
Pulls strongly all the way from bottom all the way to redline, albeit mild lag, excellent torque curve.
Cons:
Decent fit and finish. Somehow feel the 300F is well put together.
Too much and oddly garnished chrome for my liking.
The headlights (had the opportunity to test it late in the evening) doesn't inspire confidence at all.
The suspension is soft at both ends, and absorbs bumps equally smoothly, yet all this doesn't strum the right chord. Strike 5.
The Rowdy-Ruff Boys:
Ninja 650 – Loved the torque and rush, but somehow the 650 basically seemed too little too late for me sans what it had to offer, either new or used. After the 390 everything feels over-priced and under-powered.
CBR 650F – Gave up the ghost for this, right when the V-Strom was brooding in my mind.
Ninja Z900 – The National SBK of India. Again, nothing to go gaga over. Up for cheap grabs, but somehow didn't strike the right chord. Why? The Strom was already at the crux of cumulus.
Versys 650 – Echoes the same 1st point. Though a good bike, the weight, power and everything it had to offer, just wasn't worth the glorified a headache it was as an all-rounder.
The Big Boys…?
ZX-10R (Was so besotted, I had recurring stargazes every hour of the day).
Street Triple R/RS – Eventually, the I4 OCD would kick in. Eventually, the Triumph dissolved into oblivion.
Used MT-09 (A pipe dream) – That went down as pipe dream.
Slowly yet steadily, the thought of getting a "used SBK" didn't seem exciting. Though I'd like to chronograph the pros and cons of each of these motorcycles, as I envisage them as per my requirements, I think it would be a dissuasion and stray of the essence. These bikes shouldn't be subject to the discussion of a daily-doer or me simply being fastidious. I always say, big bikes are glorified style statements appeased by the mind, yet vindicated by the heart.
Like my man Jimi says…
Technically, I'm not a guitar player, all I play is truth and emotion– Jimi Hendrix.
And that… and a good night's sleep later…
We "Offiziele" Strom: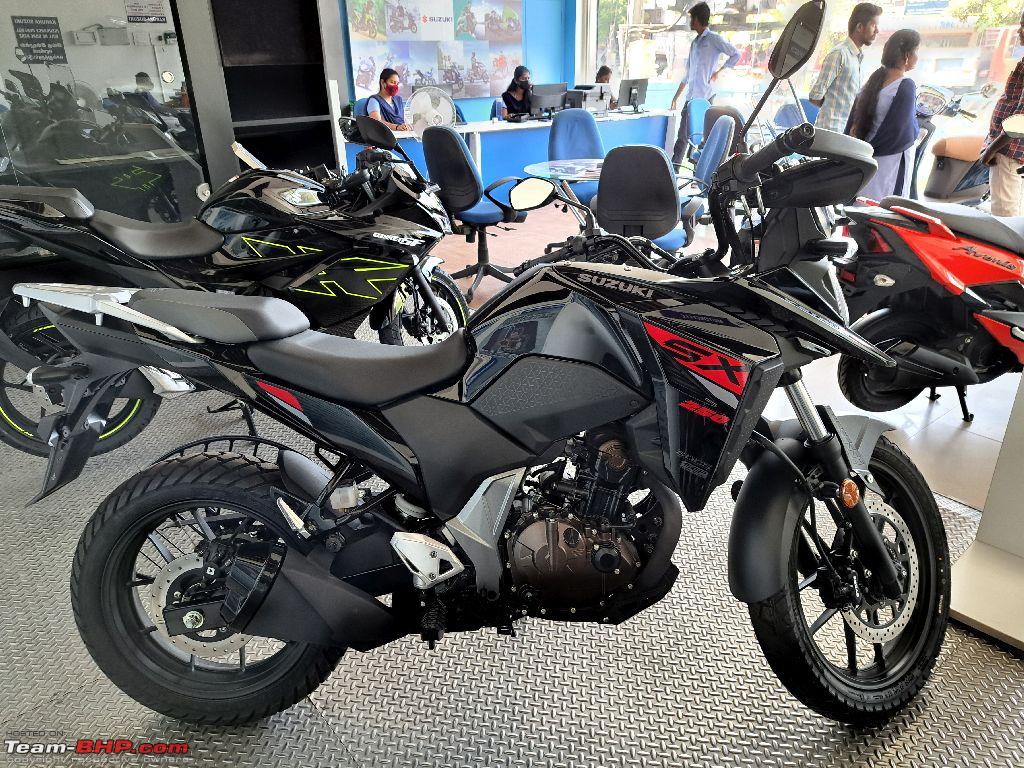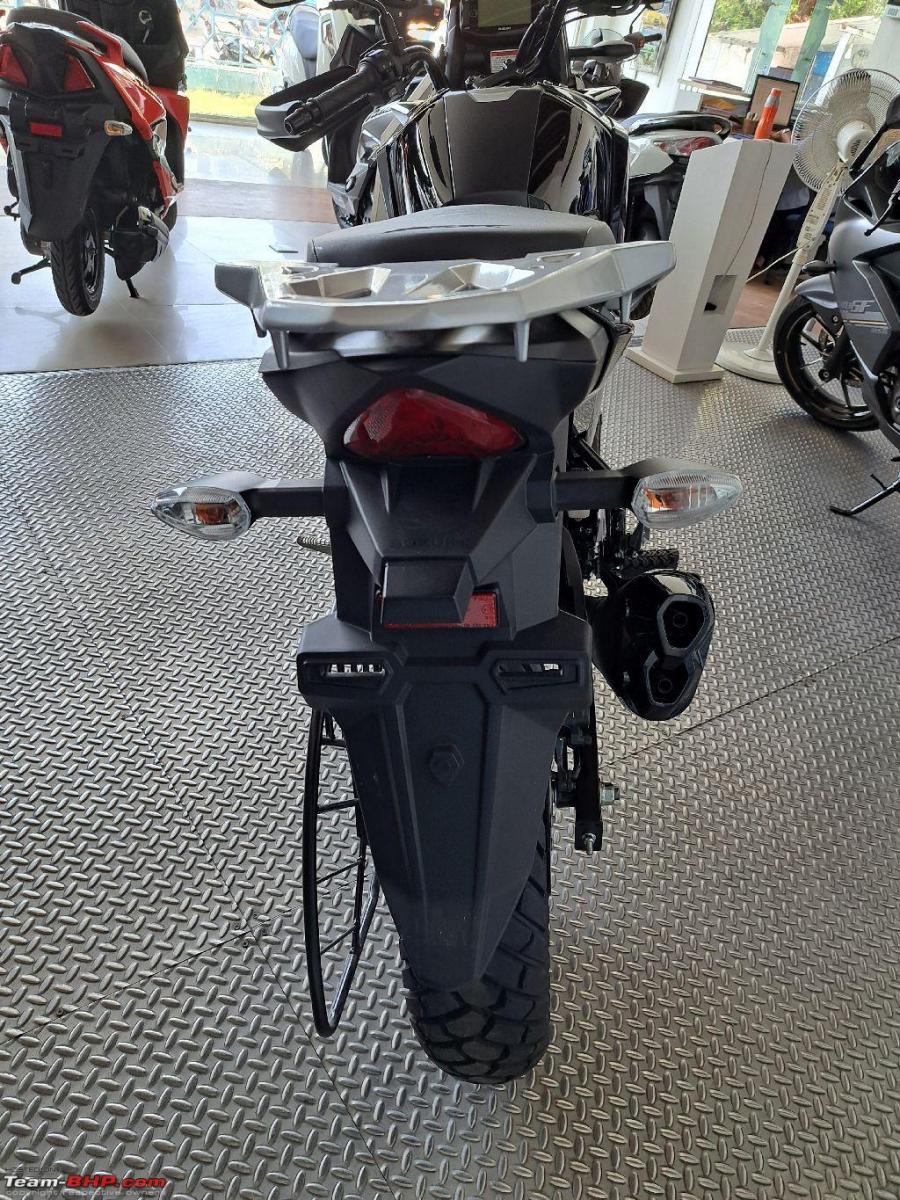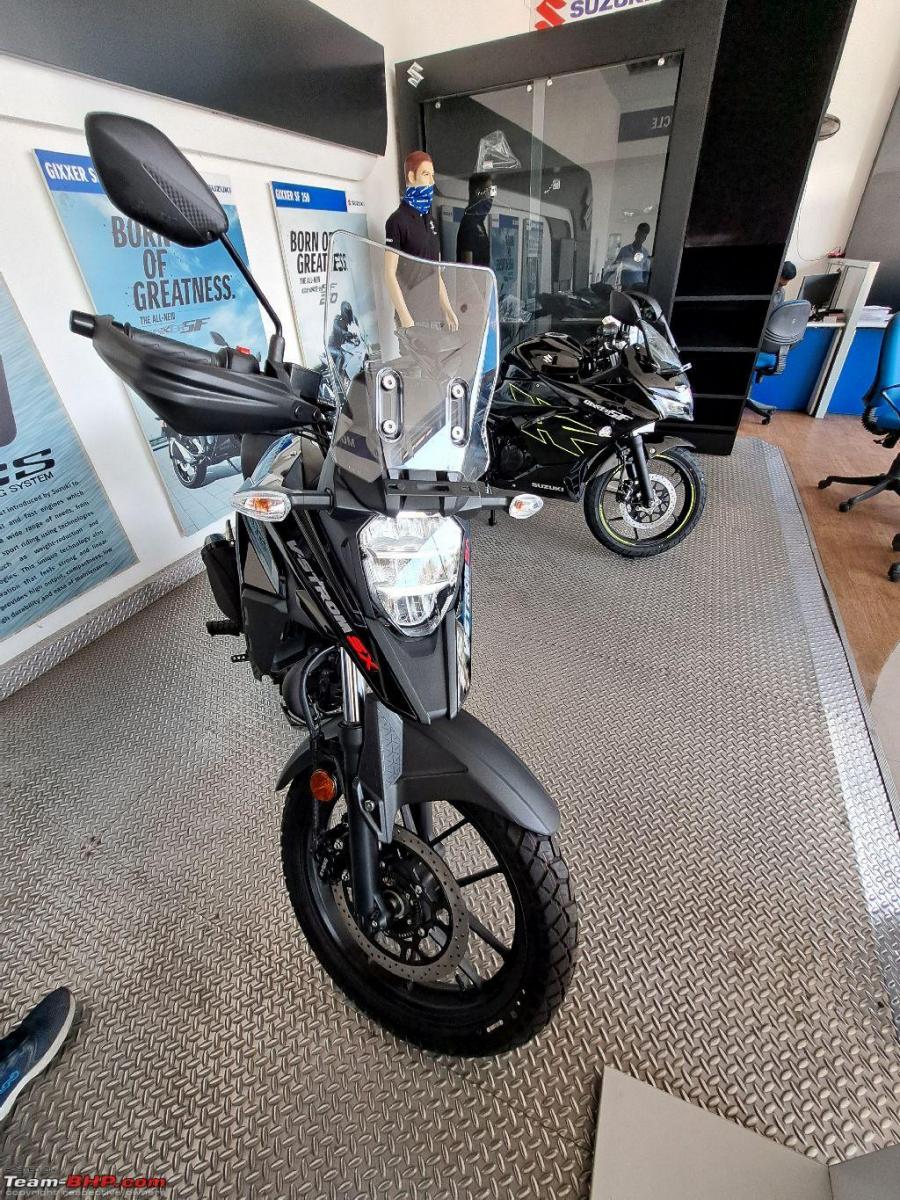 Pros:
Excellent presence and design philosophy.
Oozes the DNA of the bigger Stroms, every inch of it. Though it's plagiarized as a SF 250, once you swing a leg over, there's nothing SF250 about it, except the engine that does duty on the SF. Suzuki's engineering team have done a commendable job infusing the old with the new, with similar parts bin, that it's turned out to be one heck of a neat package, quite clever.
Commanding riding stance, less vision intrusion coupled with slick and compact dimensions, a big plus. Very good road stability, no cross wind weaves on highways and all this is pretty much on a stock motorcycle solo without being loaded. Good quality rubberized removable peg cushsions, sturdy alumimum foot rest for pillion.
Fit finish and quality is as you'd expect from a Suzuki. I feel it's better than Yamaha, coming from a Yamaha after living with it for 8+ years. If you've come this far, you'd know the Himalayan conundrum that I've prefaced earlier. Every inch of the Strom is 2x better than the Himalayan/xPulse, (the nearest true-blue ADVs on an apples-to-apples basis) in my personal opine.
The engine is a simple, rugged, six cog, OIL/FAN cooled mill that's fill it, shut it, forget it type. At times I wonder if that's a 250 thrumming under. Exhilarating mid-range, commendable top whack, sinisterly smooth, starkly vibey, a 250 that punches way, way above its weight. In short "A sophisticated gentleman with crass humor" is what I'd term this engine. I love it!
Frugal? Fuel sipper is an understatement. This thing runs out of fuel vapor for the average it returns. Excellent fuel economy. Puts my R15 and CBR 250 to shame in most cases.
Seats are comfortable both for the pilot and the pillion, with the seats being medium to moderately firm which I personally prefer. Rear seat is joy personified.
Decent headlight with good adjustability, though fades vis-à-vis the strong high-beam trodden halogen brethren. Still much better output when compared to CB350, xPulse and Himalayan's dual candle beam.
The 19 inch front makes the bike handle exceptionally well, flicks at the thought and hold its line irrespective of the load. A trait I preferred the most after coming from R15 and Dukes.
Tires are MRF Meteor, dry grip is extremely confidence inspiring, wet grip is very, very commendable. Overall a well-rounded tire for the Strom. Only time will tell how it'd fare once the treads degrade, but that's for another day, started to scour for potential tire choices already. Should be fun!
Provision for paddock spools, a solace, missing the center stand is nullified.
Very good quality switchgear and though a small unit, the speedo is aware of its short-comings and portrays everything crisp and clear. Though I'd have preferred the speedo of the SF250 for Indian Stroms, strangely enough the Stroms sold to LATAM countries are shod with SF250's. Et Tu, Brute? Is Indian Rupee still cheap a currency than peso? Sigh!
Very good quality plastics all over, no rough edges, have good enough flex. Clean and crisp finished plastics say a lot about the effort a manufacturer puts in to make it a better product and it shows. When compared to the outrunning ADVs in India, it's a night and day difference.
Bluetooth, Suzuki Ride Connect App all pair flawlessly to the phone, with quick dash at the screen for the calls, SMS and the nitties. Yet the mapmyindia navigator for the SRC App leaves a lot to be desired. I wouldn't recommend the SRC App navigation as your primary compass, as it can turn out to be sore experience. Google Maps and a mobile holder is your savior. A con if I may, to the Bluetooth is, the BT system turns on every time the ignition is turned off, forcing the user to turn it off manually if required. Perhaps, Suzuki should have given an option to turn BT on/off depending on the user's need so that the cluster is less littered with Bluetooth Serial ID every time the ignition is switched on.
I've listed suspension as a last point primarily because it deserves a pro and cons of its own.
Front:
Wider and fatter forks translate to good stability.
Well sprung, not too soft, not achingly hard, swallows everything astride.
Front suspension travel is good, but not great. Remember, this is a dual purpose, soft-roader setup, not a hard-core ADV setup. Throwing her out on rutted trails, solo, the front suspenders never bottomed out. Perhaps two up shall reveal a different story, but that's for another day.
All in, a well-made, robust unit.
Rear:
Suzuki needed to slip it somewhere and hence (The Achilles' Heel).
The rear is a 7 step adjustable Gabriel procured unit. Stock setting is placed at 3 with winding anti-clockwise making it stiffer, clockwise making it softer. With stock already at 3, you are left with two clicks to make it completely soft, CW. Notching it up higher than 3 ACW, would mean you're winding it even stiffer.
The suspension is a robust unit, capable on tackling anything at its fore. With two up, with the stock setting, the vehicle completely settles to its own and absorbs everything the tarmac has to offer commendably well. No thuds, no weaves, no noodly chassis as the Himalayan while taking corners. Planted as a tree, confidence inspiring and allows for very good mid corner correction if need be and doesn't overwhelm with unintended errs.
Solo is a different story, it does all the handling duties well, albeit the rebound leaves a lot to be desired. The rebound damping is pretty icky, poorly saturated, at times can unnerve you when you're standing up to wither the speed bump or that hump you love. There's a palpable delay vis a vis the compression and the rebound damping, with the rebound taking longer than usual to revert back, coupled with stiff compression causing a spike in RPM and general ire when trundling over an obstacle at speeds. Slow it down to crawl speeds over any obstacle and the suspension is an extremely happy unit to oblige, especially solo.
Staring with the softest setting, the rear should be tweaked upon to see how it all translates to get that 10% improvement in damping effectiveness, which should ideally translate to an even better bike. Status quo, am I disappointed? Not one bit! This is one aspect of the motorcycle that's to be fiddled with, and thanks to its generous derriere everything is pretty much accessible and DIY friendly.
Cons:
Meep meep, abysmal horn and a single horn set up at that, as is the case with all OEMs. Replaced it with a better sounding single one, would recommend the same or upgrade to a dual horn setup to potential clientele.
No clear coat over the stickers. It's all plain-jane sticker job over the panels. Clear coat over the panels would have made it a better looker. If you own a Black like me, god bless us.
Nonchalant vibrations present at the lower spec of the RPM  4k RPM. (More on this later).
Center-stand is painfully missed. Pain in the posterior when it comes to chain maintenance and general servicing. Though after-market and DIY center stands have been doing rounds in IoT.
Seat height at 832 mm can be a negating factor for the vertically challenged, but that's more a personal choice than outright convenience.
Non-switchable ABS. Dual-channel is great, but why not switchable? Trust me, switchable option isn't going to matter one bit when you're riding, in fact, one would be happy that it can be a savior when one least expects. But the perks of silencing tech at will is something that's more a brownie point than dissuasion.
No LED indicators for the price? Personally, I prefer a bulb-ed flasher as opposed to an LED. I feel as though LED flashers are hyped coupled with flashing units that's taken a trend now with crazy flash patterns. Eeew! Bulbs make me happy. Old Habits Die Hard! Heck yeah!
Brakes: Good rear, bad front. Feel most Suzukis are made this way. The front has good initial, but progressively fades to oblivion. I'm hard on the front with 90% of all my braking demand subjected to front. Perhaps, as the brakes/rotor bed-in, the front might translate to a better performer. The caliper definitely has the potential, the lever feedback, the master-cylinder pressure build-up, all tango beautifully, yet the pads simply don't translate all that to the anchoring urgency demanded. Perhaps, I'll update more on this later if and when I upgrade to a better pad setup or wait for the stock to bed in. EBC or Vesrah are prime on the radar.
Vibrations! A very interesting topic that piqued my interest right off the bat the V-Strom was short listed. Vibrations are present at certain RPMs, albeit mildly pronounced at around 4k RPM, which causes the front apron vibrate, gradually opening the throttle, the bike smoothens out and from then on there's zero vibrations. Mild buzz starts to creep in and around the foot pegs and bars around 9.3k RPM, starts to sustain sustains choking it to redline. Am I disappointed with this? For now, definitely not.
I shall reserve any further comments on the vibration, since most users report the progression starting to pick pace negatively post the vehicle clocking 6k kms. God forbid, we'll see how the bell curve is set for me for the foreseeable future. But, for now, she's a peach!
The other finer aspects of quality that I'd like to touchbase about the Strom as we've been getting along:
Tire pressure: F22/R29, probably the lowest front tire PSI of all the bikes I've owned after the Suzuki Shogun which was rated at 24. An interesting remark that I'd like to share. The air pump guy I frequent was "aghast" seeing the tire pressure setting to 22. He was adamant that it's 27 and not 22 and that I was wrong. Made him hunker and made him read this… The look on the chap's face was priceless…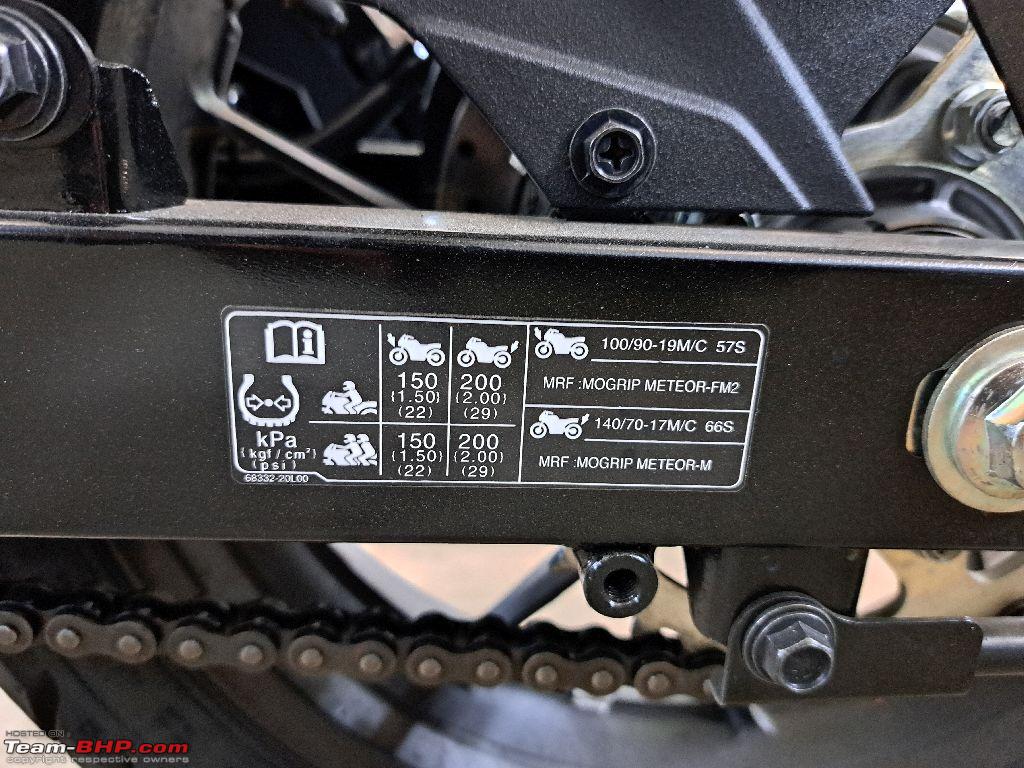 Finer quality aspects that I personally loved about the Strom:
Clean seat innards, no rough edges, well placed foam inserts. Even my CBR250R and the R15 didn't have such clean finished seats:
Nice and thick rubber band to hold the tool kit, as opposed to hairbands like most manufactures stick to: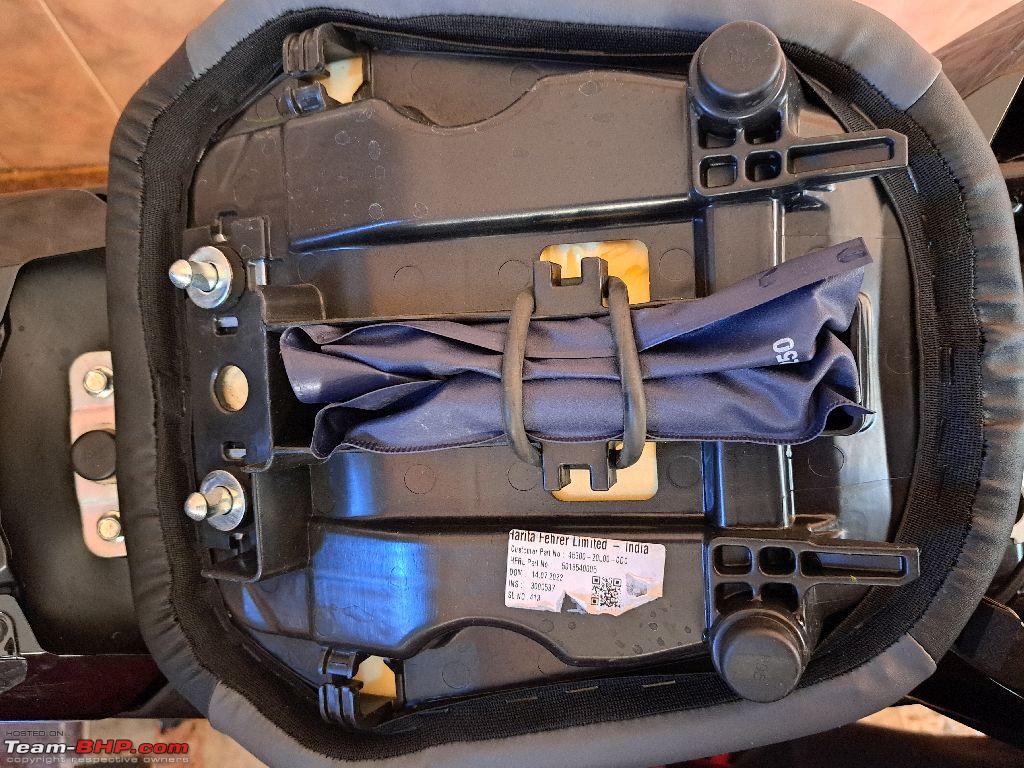 Attention to detail. Notice, the seat cover staplers are black: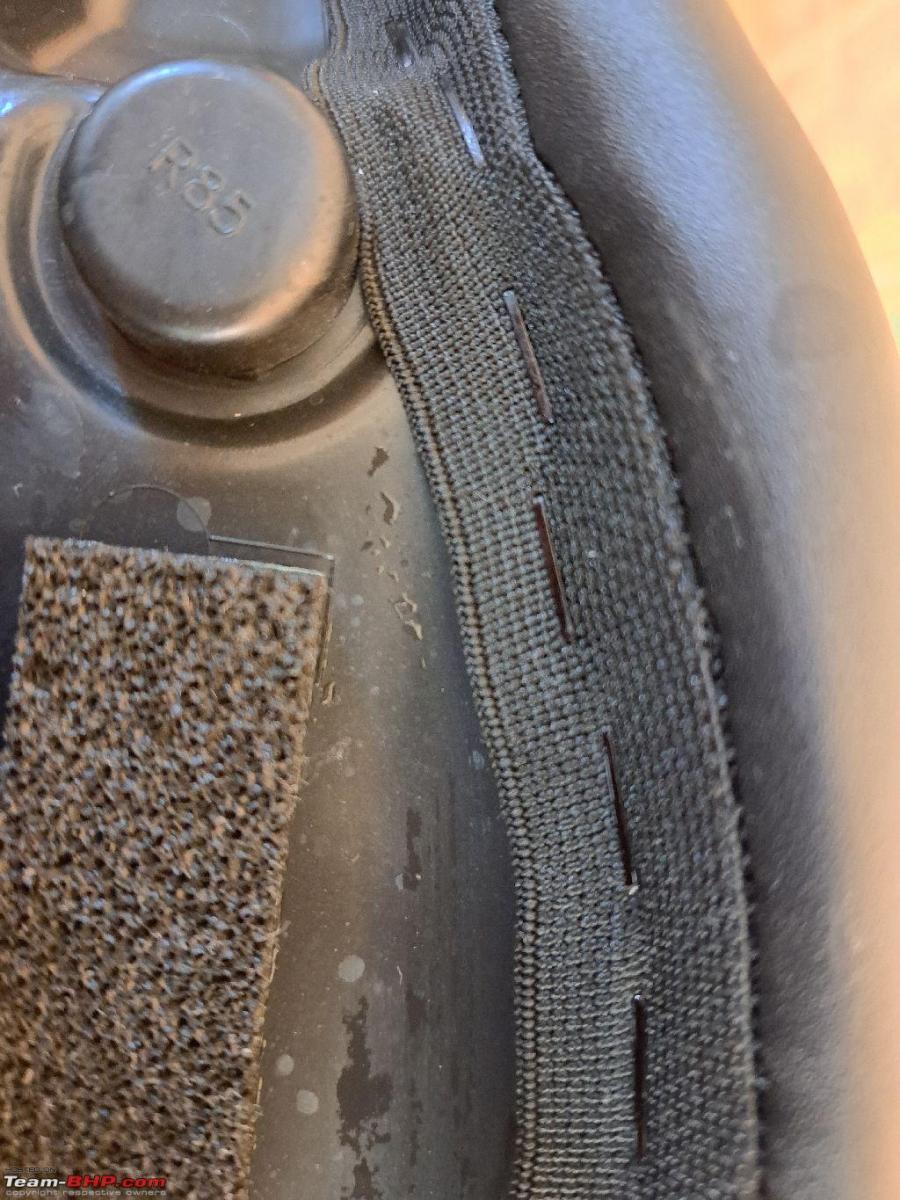 Fool proof markings:
Neatly integrated, routed and shrouded harness looks spic and span. Robust rubber inserts. When compared to the Himalayan, my Himalayan's rubber quality, harness routing, shrouded were literally garbage to say the least. More on this later..
Talking about welds. An interesting point I'd like to share contrasting my observation with the Hima and the xPulse was. The Hima's chassis welds were nothing short of shoddy with weld splatter and crude weld dingleberries, also worthy of mention is the swing arm of the Himalayan with poor weld seams, poorly integrated reinforcement all over. The xPulse on the other hand boasted very good chassis welds when compared to the Hima, perhaps the only aspect I liked about the xPulse much.
Contrasting with the Strom's weld seams, finish, both fade into oblivion and here's why..
Seamless weld and finish:
The engine mount and the periphery are perched well with clean welds and adequate reinforcement: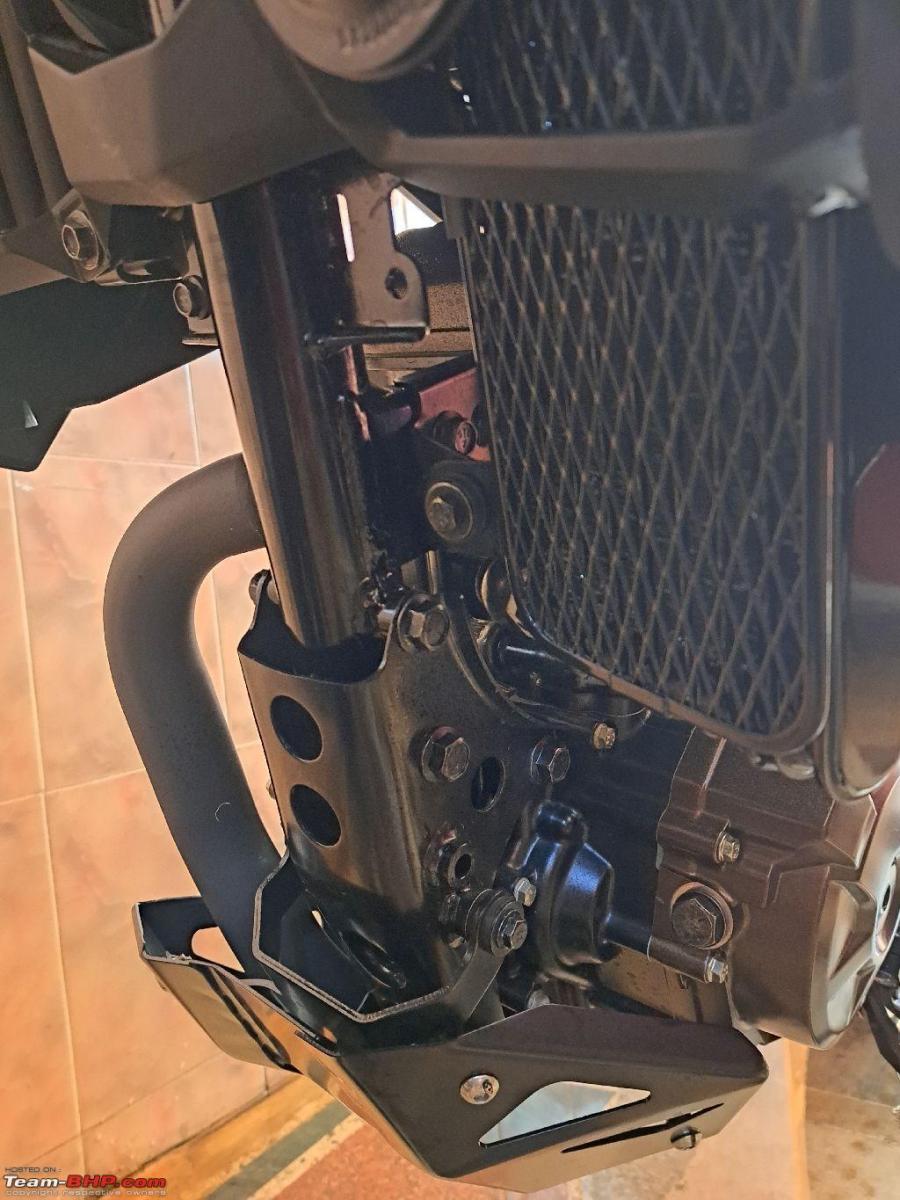 Notice the exhaust welds:
Right side rear-set. Notice the seamless weld. If you'd compare this with the Himalayan, the difference is night and day:
Left side rear-set, excellent weld quality. Also the shifter linkages are of really good quality. Good quality Allen bolts throughout: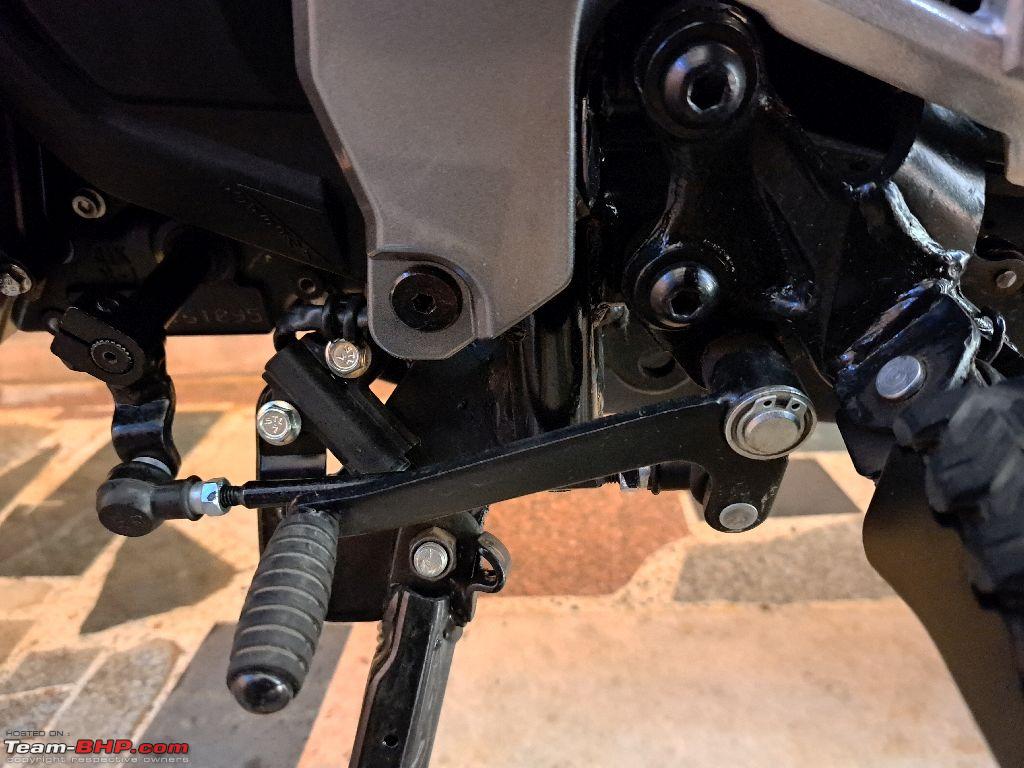 The saree guard. Personally not a big fan of it, but I'd prefer to keep it as a safety feature. Robust and very heavy saree guard. Look at that clean fit and finish:
Foot rest being installed. Aesthetically it was a nighmare. Home-minister and finance minister were chuffed, eventually:
Notice the swingarm welds, seamlessly done. You know to which I'd compare this to:
The cat con. Seamless welds, flowing perfectly to the muffler. Kudos Suzuki!
The headstock. Seamlessly welded, great subframe reinforcement with spotless welding. On my Hima, you'd see a rectangular frame with only a single weld preface mark and with no reinforcement whatsoever:
The legendary V beak appendage perch point, seamlessly mounted. Notice the two 10 mm bolts. The first bolt affixes the beam assembly, the second, philips headed 10 mm bolt is the headlight beam alignment bolt. Easy-peasy!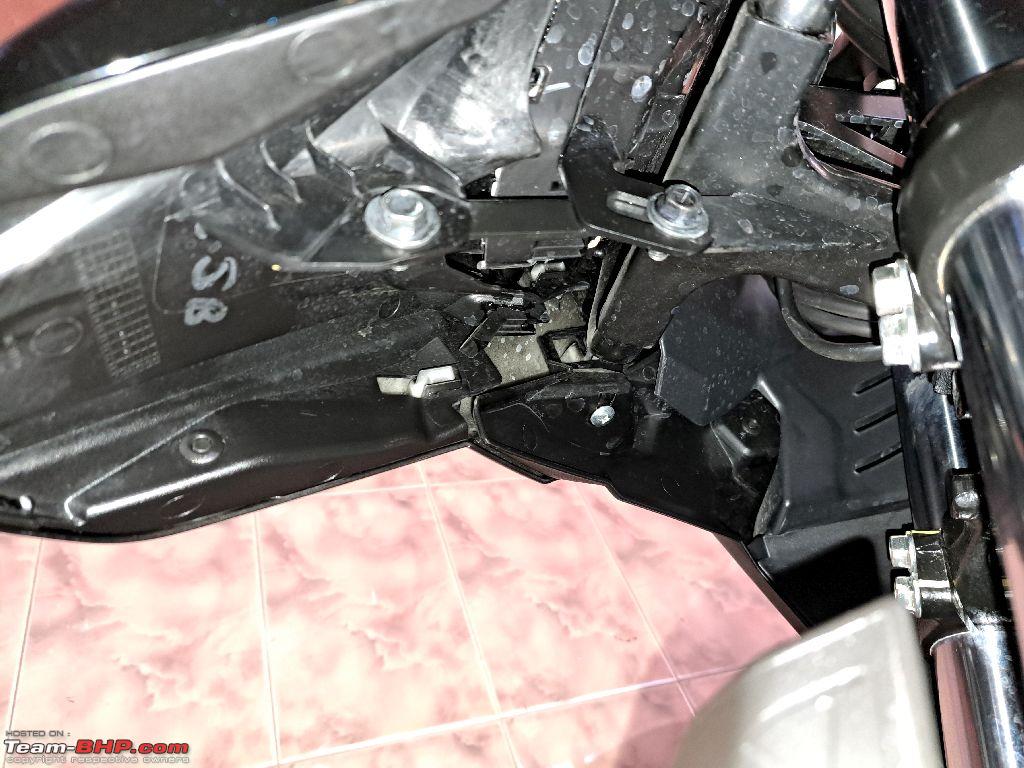 Exceptional quality of parts used:
DID Chain. How often you see a DID chain on a stock bike in Indian market?
Heck, even my R15 and CBR250R had Rolon made chain from factory. Suzuki, you nailed it!
Enkei rims! Beautifully crafted rims. The tactile feedback, fit and finish top notch, when you compare to the leading bikes' ADV rims on the market: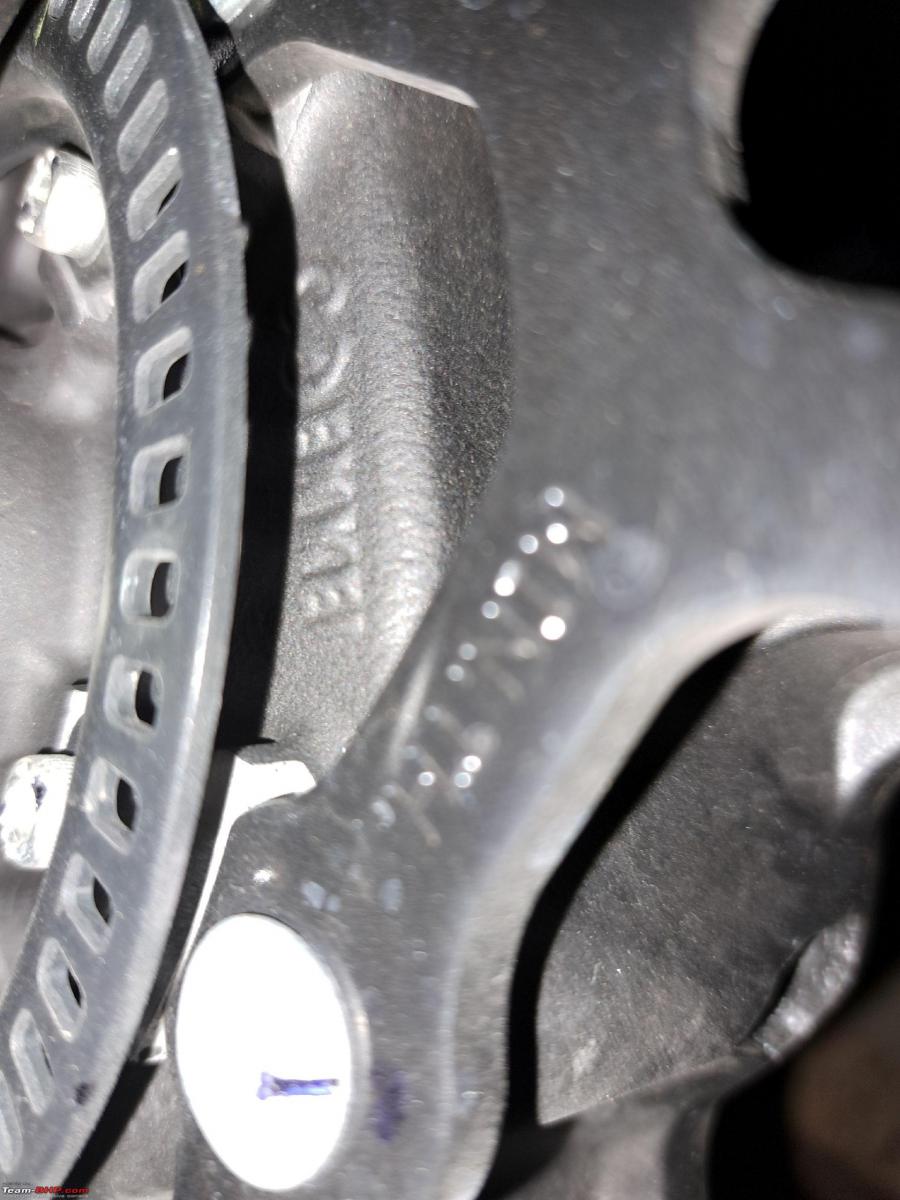 Panasonic blower! The oil cooler's fan, again made my Panasonic. My R15 and CBR's were made by Panasonic too: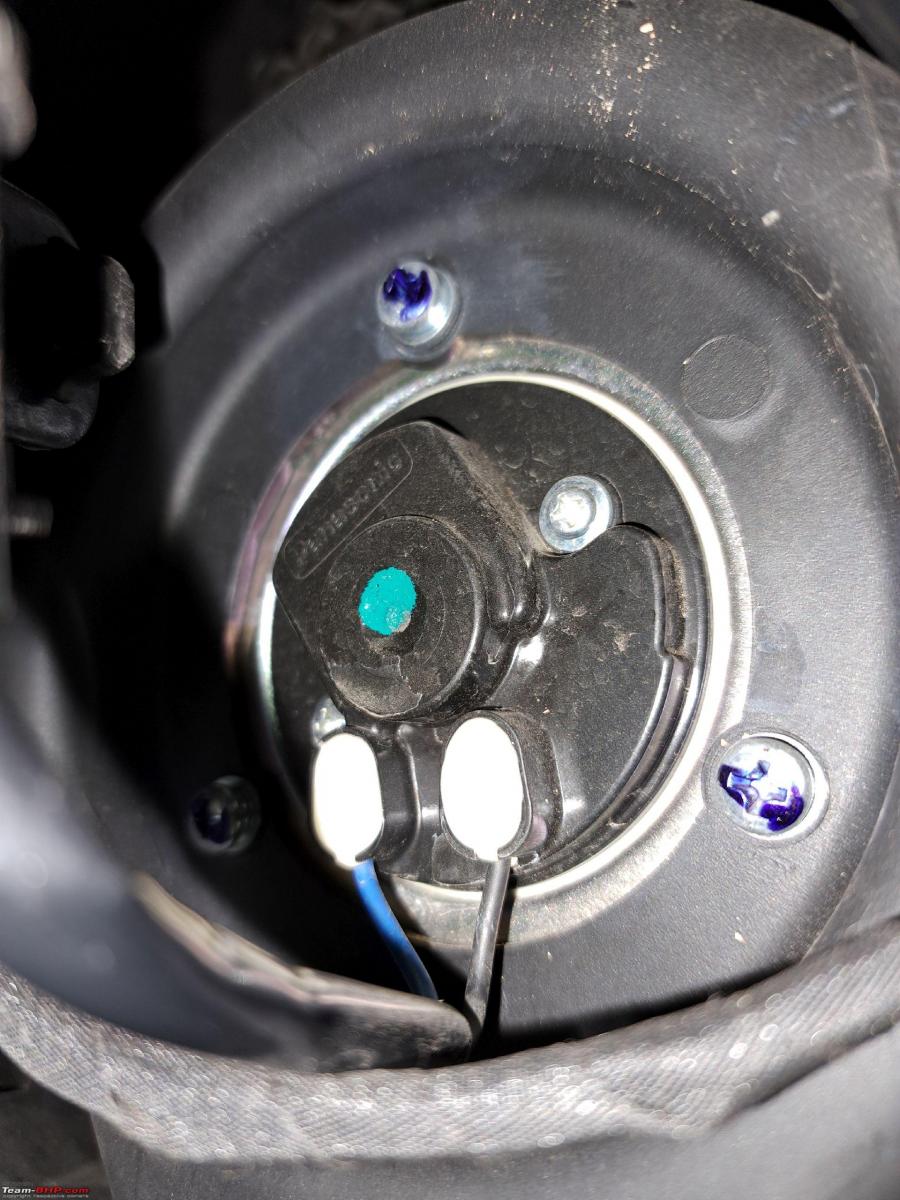 Plastic quality:
The fork seal protector. That front fender in its entirely is fabricated out of polymer and is of excellent quality. Has good enough flex, fastened with allen keys. The chunk you see here isn't hollow, it's actually a solid chunk of plastic that doubles up its duty as the fork seal protector. This chunk not only helps the strengthen the fender, but also is aesthetically designed well. Notice the star patterns, TATA effect perhaps! Looks neat!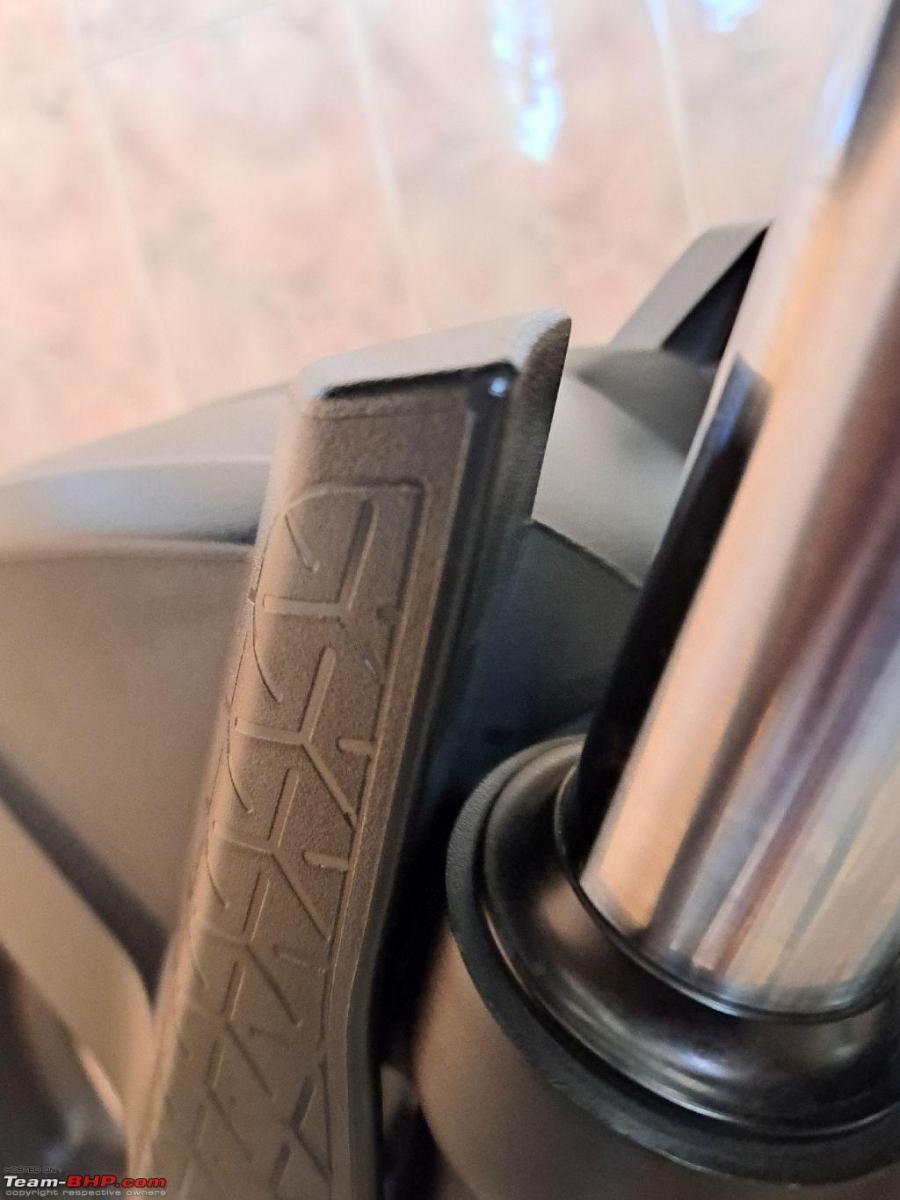 The solid chunk it is! Strong and firm!
The rear tire hugger is a work of art. It's been thru thick sloppy muck, cement goop, and the neat feature of this is, most of the goop accumulation is reduced to very minimum which in turn increases the life of chain and the rear suspension. Interestingly whatever gets thrown over and above the hugger gets accumulated in the plastic crevice below, so that it's easier to clean. All you'd need is an old paint brush, dust it off and all the goop is gone and it's as good as new:
Wires? Where Art Thou? Beautifully crenellated and covered plastic. Suzuki had done a beautiful job tucking the wires keeping the lines flowing smooth.
View from the top of the handlebar – LHS: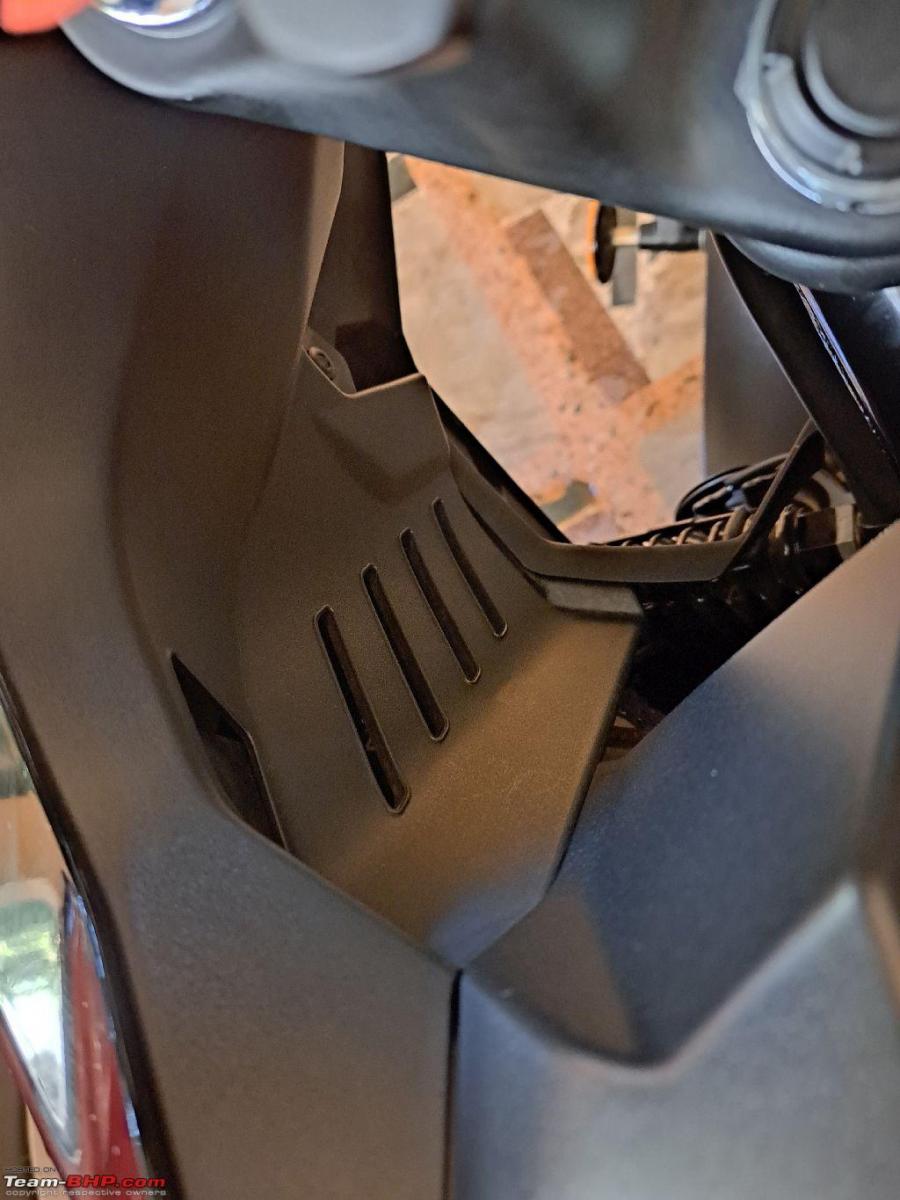 View from top of the handlebar – RHS: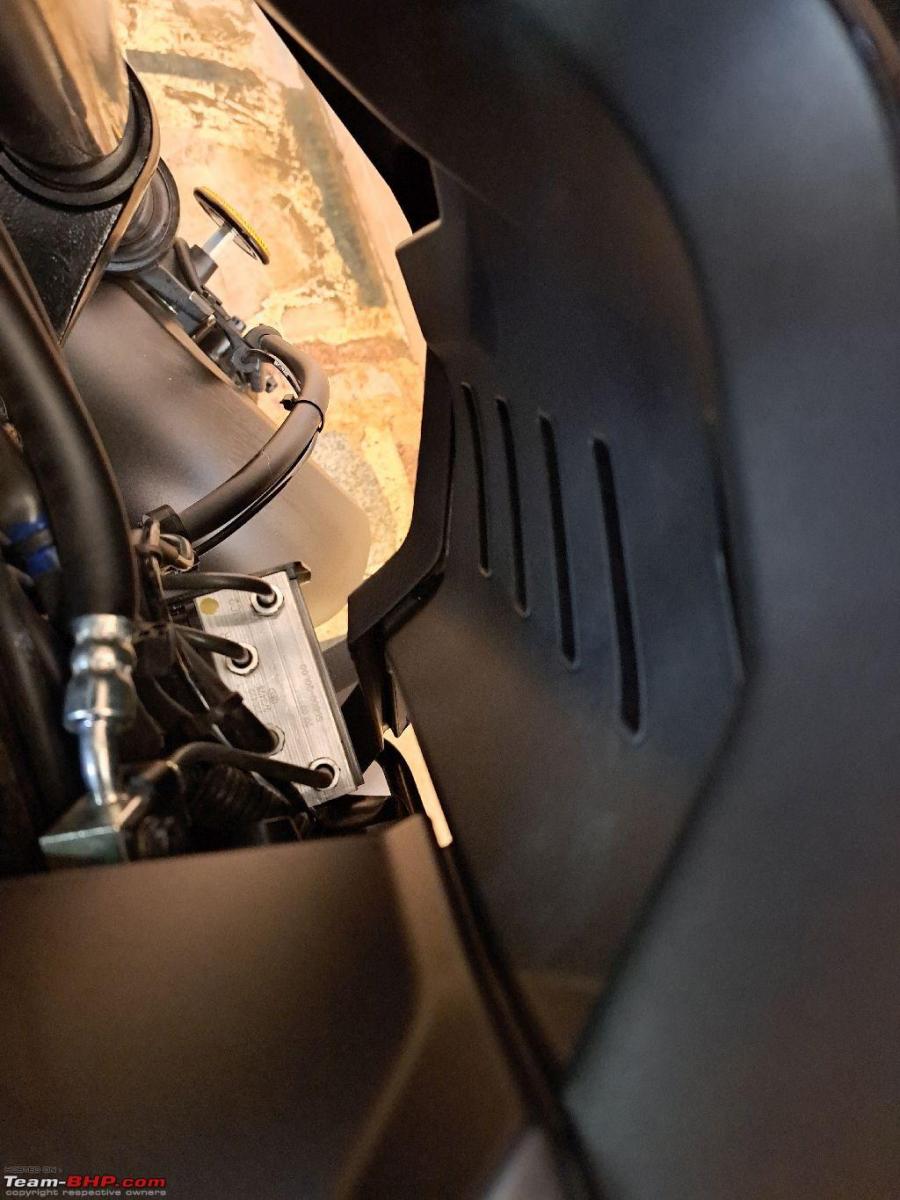 Continue reading on BHPian VijayAnand1's Suzuki V-Strom 250 SX for BHPian comments, insights and more information.
Source: Read Full Article