Most of the parts are available albeit at a higher price but coming from a TVS Suzuki Supra and an RD350 restoration, that didn't bother me one bit.
BHPian Roshith recently shared this with other enthusiasts.
This is the story of my little Hero Honda Street and how she was brought back from the proverbial ashes.
My Red Rider : Love it
Will start my narrative with why I considered a Street?
To be frank, I have always looked down with disdain and good-naturedly have even made fun of friends and colleagues who own Hero Hondas. To me, they have always been puny and wheezing boring commuter bikes and one of my colleagues in the office and his faithful Splendor have always been the butt of so many jokes. The Street has changed that perception and how!
Being in the advertising industry – the "You meet the nicest people on a Honda campaign" had always piqued my interest especially the very clean lines of the Honda – featured in those ads. The red & white combo with the M80'ish looks is so timeless.
I also happened to see an episode of every auto enthusiast's favourite show – Top Gear, shot in one of the ASEAN regions (don't remember which one) and the sheer number of step-thru's featured in it simply boggled the mind.
I started my search with the M80 – Bajaj's most successful step-thru. They are a dime a dozen but as you all know – they are the proverbial beast of burden and most of them I saw were just skeletons soldiering on with cement suppliers, fish mongers and all. Even my family who are generally very supportive of my automotive ventures didn't take too lightly the decision of buying an M80. They are nicknamed (Meen Vandi in Kerala – fish vehicles)
It was then that the Street came into the picture, but unfortunately, Hero Honda's effort to build a 100 cc step-thru started and ended abruptly with the Street – so seeing a well-maintained Street was like the needle in the haystack. I have always liked the cleaner lines and of course the gem of the Hero Honda engine it runs on.
Trivandrum, where I am based, had very few numbers. Most were scrapped. I had put the word around. OLX was also a favourite hunting ground – and I happened to see a couple of them in North Kerala. But the sad thing was they were on the last legs – cracked body panels, seized engines and they were almost run to the ground.
My first glimpse of the faded and worn-out Red Rider
Faded Parts, self-start not working, switches not functional, non-working & broken speedo console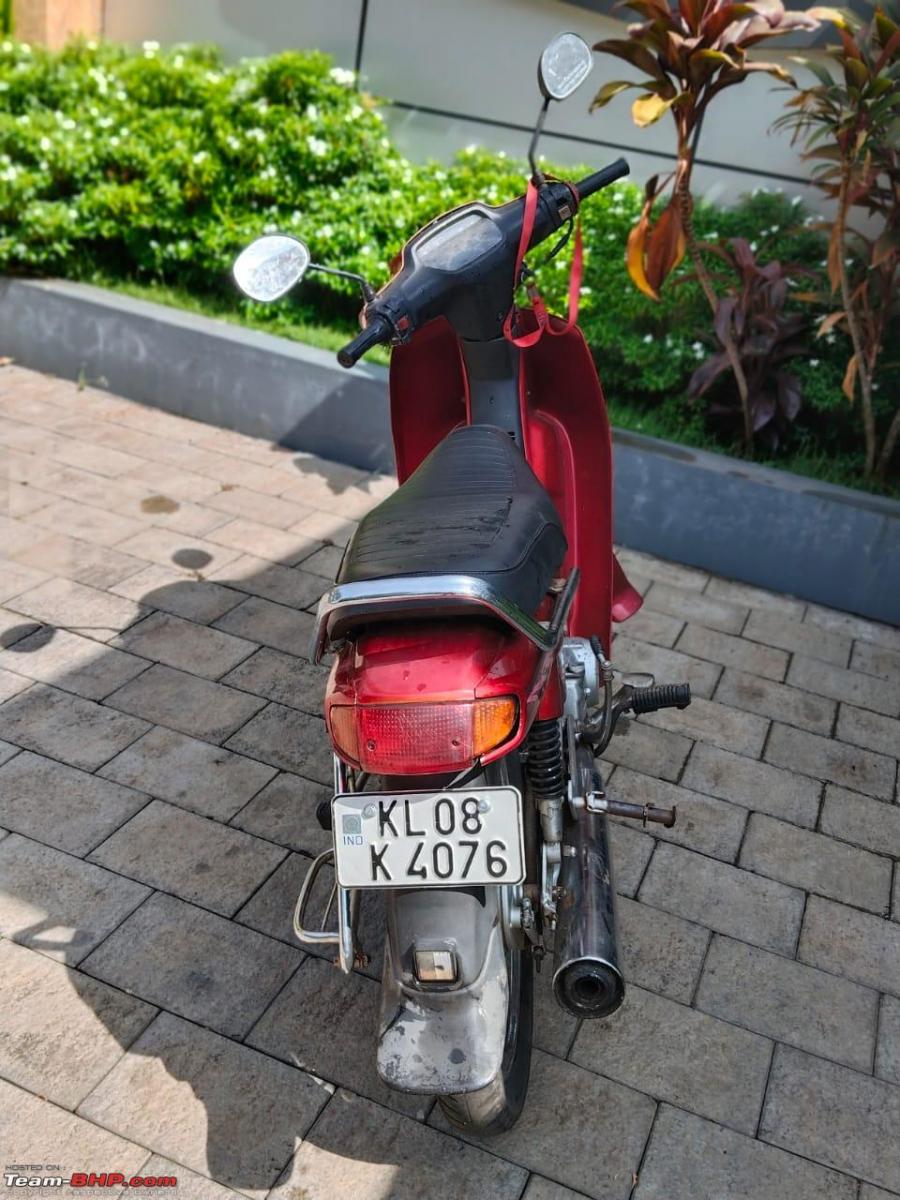 The good thing – she was mechanically perfect – just needed some strong TLC
It was then that a friend in Trichur mentioned a red-hued 1997 model with the self-start. It had not been in use for a few years. But it looked good, save for rotting tyres, cracked speedo, non-functioning self-start, a key that threatened to fall off the ignition etc. and the general tardiness that comes from not having run for more than a few years.
The number of kilometres run was stuck at 32,000 so don't exactly know how much she would have run. I didn't see it in the flesh, but a friend checked out the bike and said it was running absolutely fine but had a few minor issues to be taken care of. I then gave my friend the go-ahead to get it. It was at a junkyard and as it was in running condition, it was being used for sundry errands by the Junk Yard owner, but the good thing was it had all papers up to date save for the insurance which had lapsed. My friend Fasil who restored my Supra too did the work on this bike, because I trust him a lot and he is not the one to cut corners.
Getting ready for painting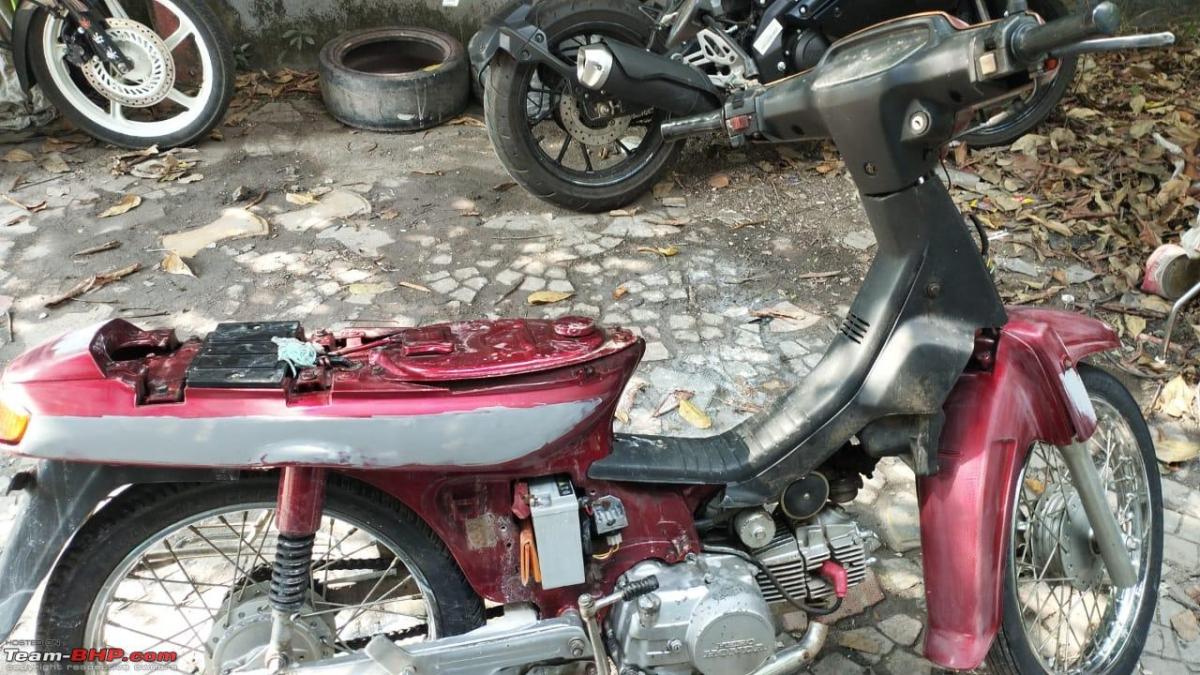 The parts that were not painted got a good clean and touch up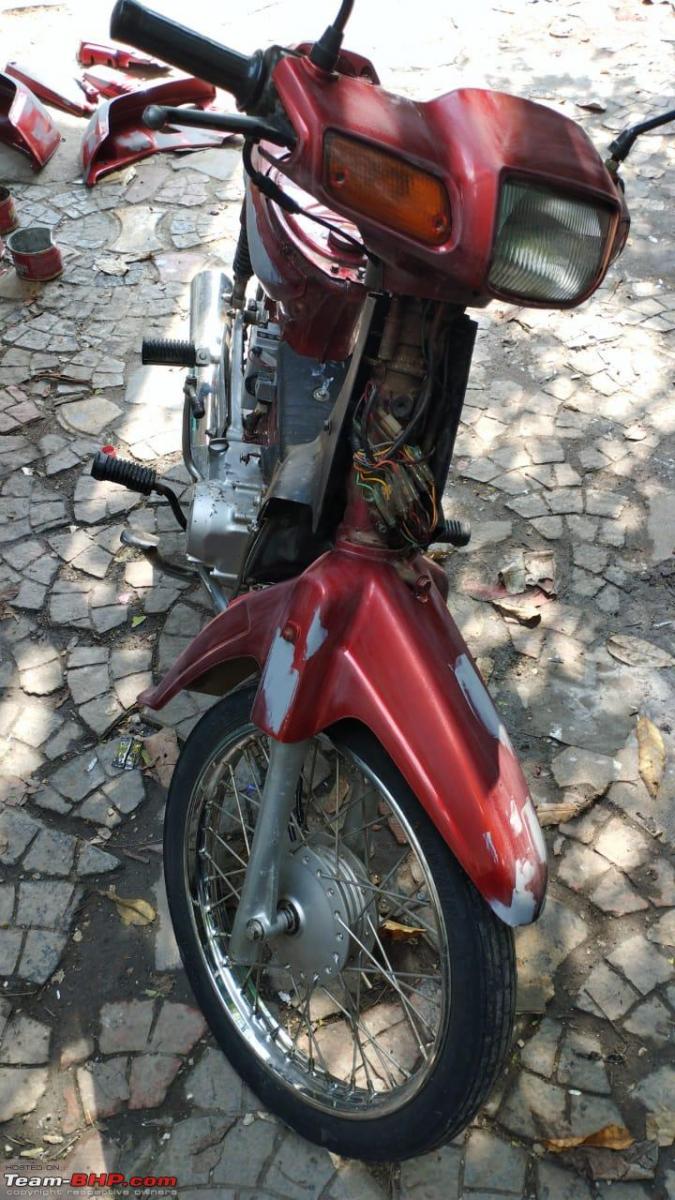 The Side Panels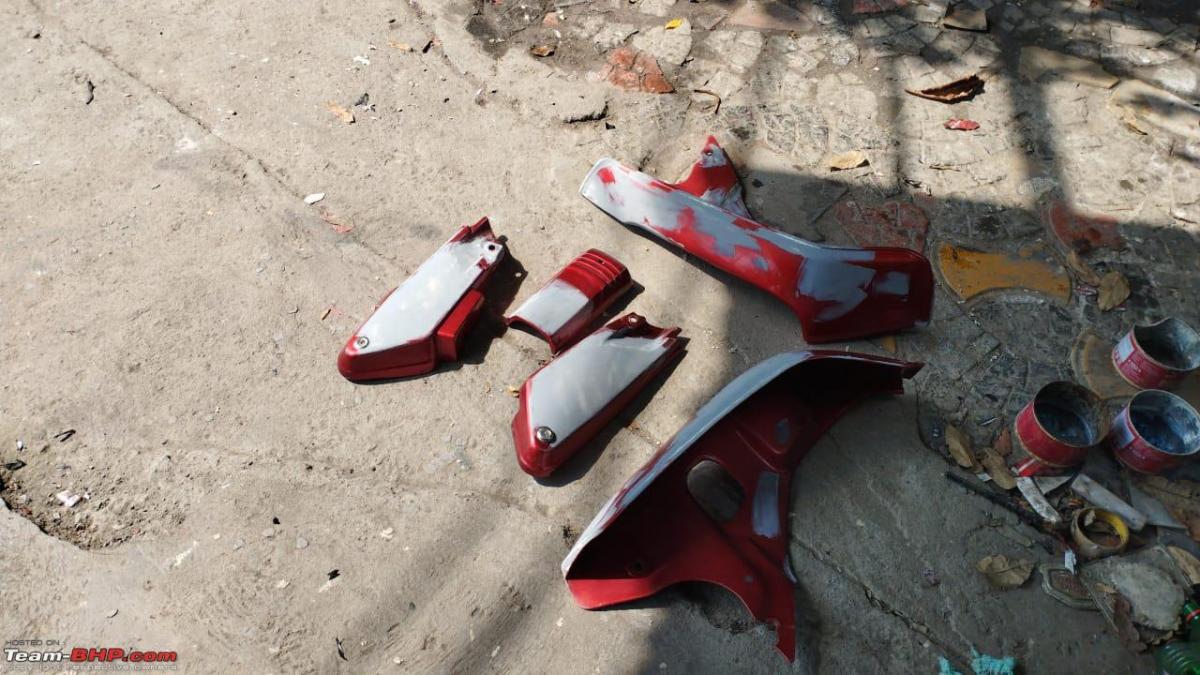 First the bike was stripped. Thanks to the earlier batch of Japanese engines everything was in fine nick. The original red paint in the bike had a penchant for fading and this was the same too. I didn't want to go through the hassle of changing the colour so decided to retain the red, but a different shade. The red shade chosen was one similar to the VW Polo.
Stickering in progress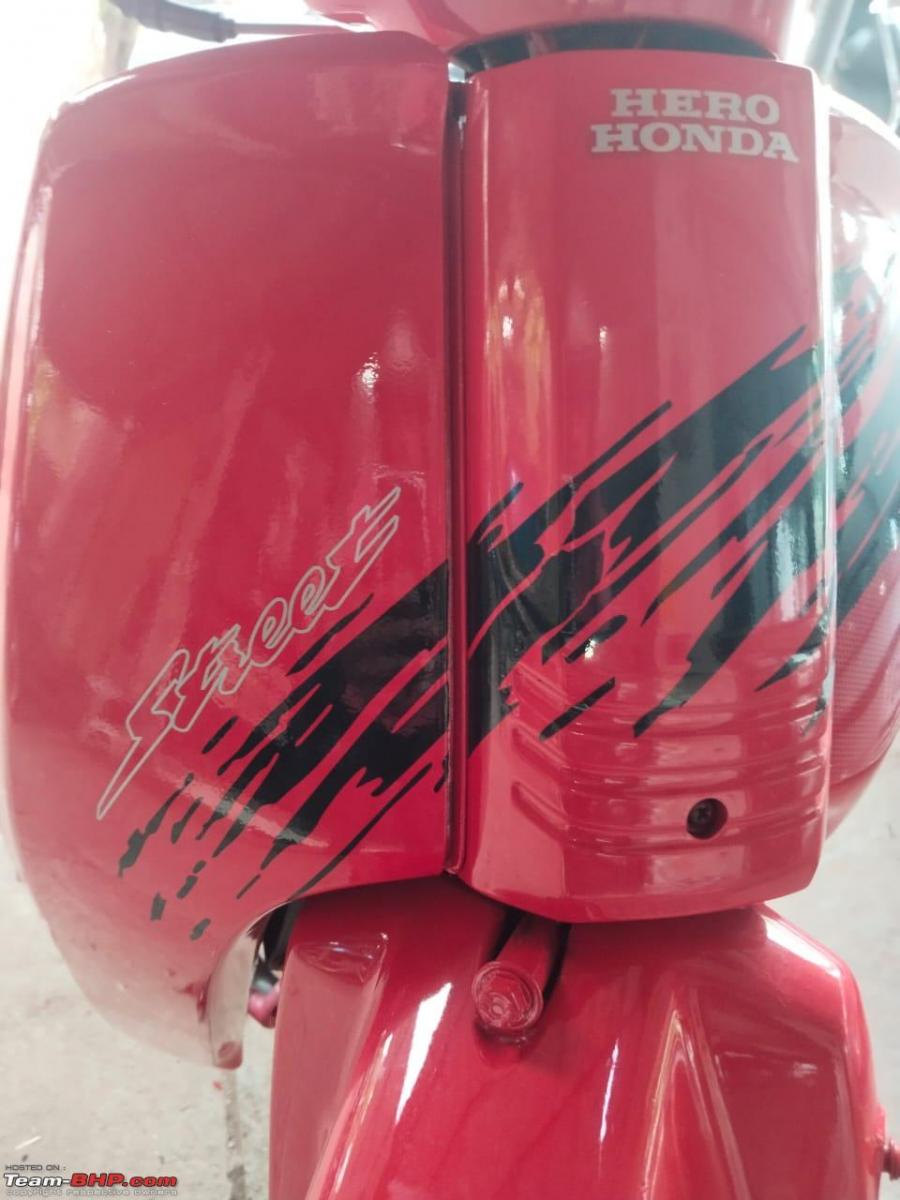 Thought black stood out in the red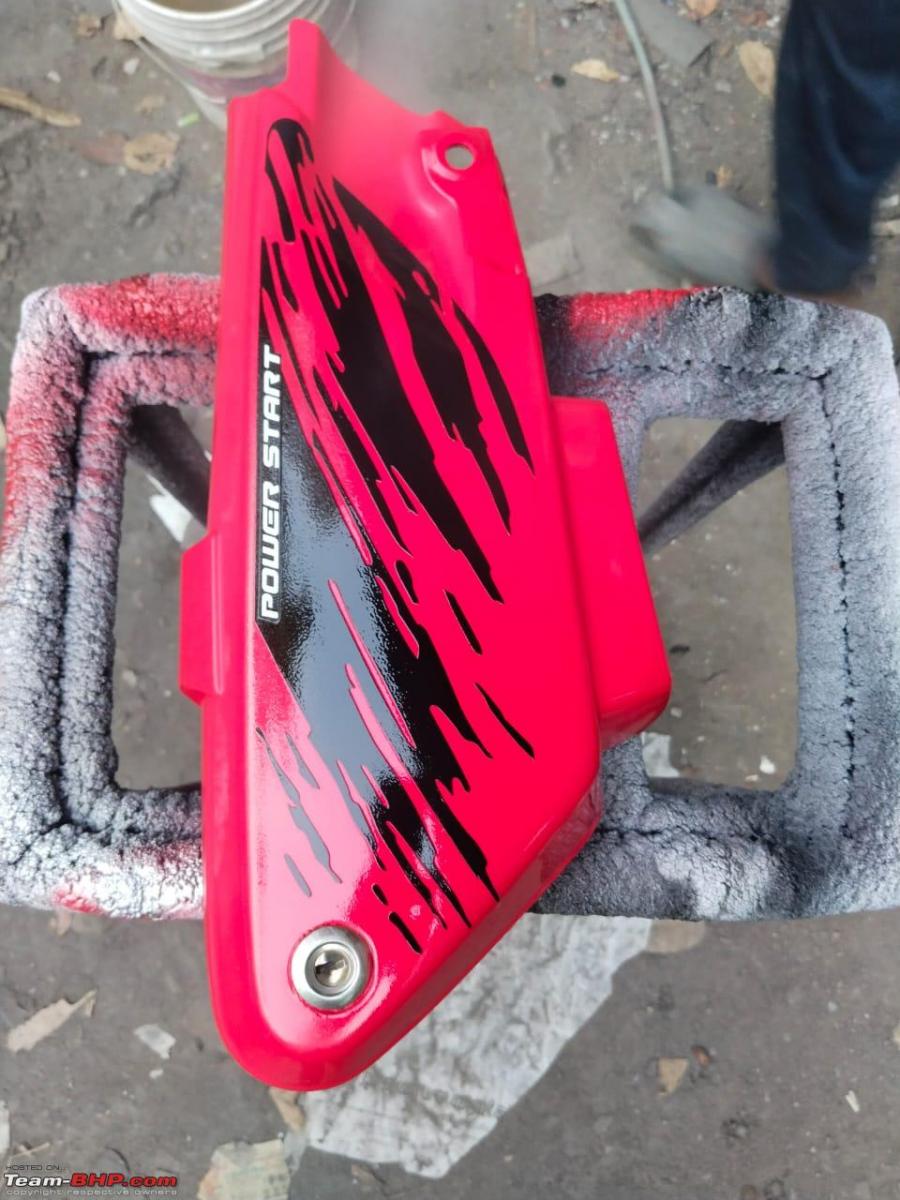 The original snazzy graphics faded over time and were also hard to get, and I wanted something different. Black stickering was designed by Fasils trusted stickerwala.
In the meantime, I managed to source a lot of spares for the bike. An FB Group dedicated to the Street – Hero Honda Street Club was of great help. Most of the parts are available albeit at a higher price – but coming from a TVS Suzuki Supra and an RD350 restoration – the Street prices didn't bother me one bit. Even some parts like the chain and sprocket, brake pads, clutch shoes etc. that had some life in them were sourced. Since these are the original "fill-it, shut-it, forget it" bikes – I wanted to make sure everything was in top shape and change with new, genuine spares.
The rear hub was not "braking well" as it was worn out – so got a new one. Also put in new spoke and wheel bearings which were compatible with CD100.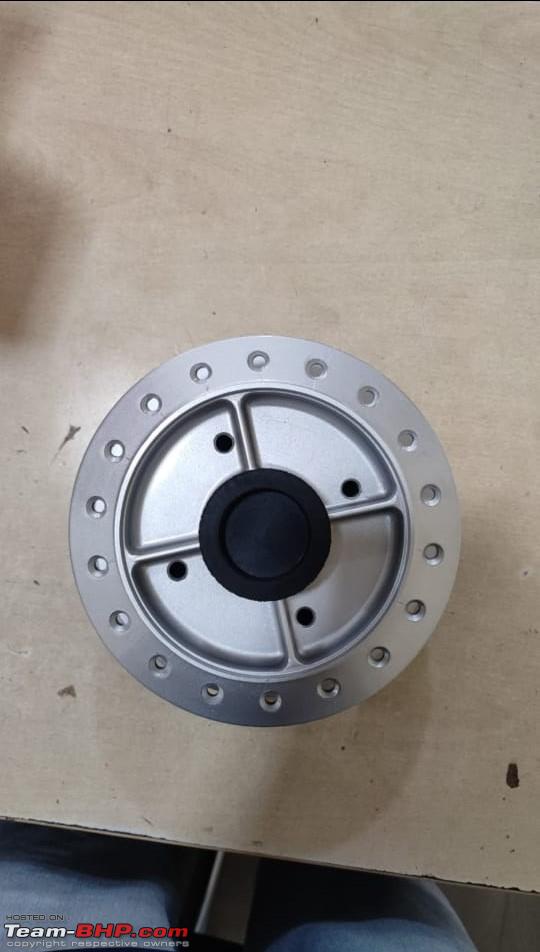 The instrument console was a mess with cracked glass and non functional – luckily managed to find a brand new piece
My Mechanic said the Chain and sprocket were good for another few hundred kilometers but decided to change them anyway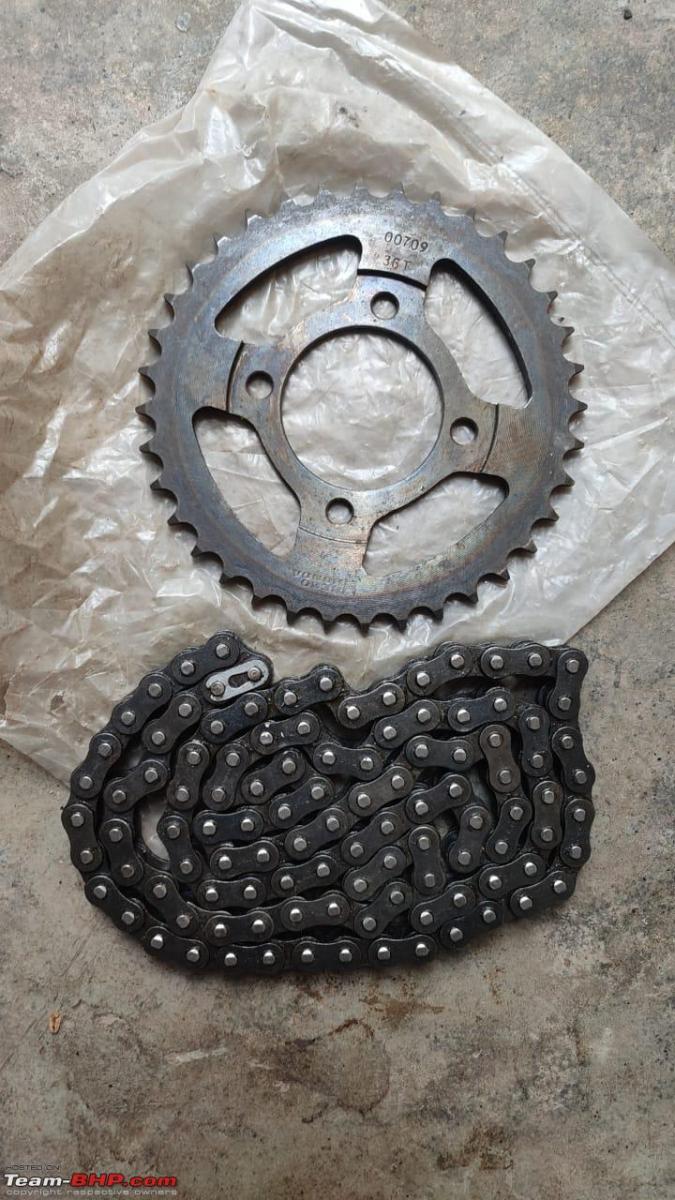 One of the front forks was spewing oil – and getting a spare was getting next to impossible as most didn't suit it. Finally, the savior was the AX100 fork oil seal which corrected this problem.
The old fuel gauge sensor had gone Kaput – so sourced a refurbished one. But this hardly decides to go down – as the mileage is always 60+
Also happened to source the wiring kit for the self start street for future use
My mechanic was pulling my leg on this one – since there were many petrol filters available in the market – but I had to source the original Fuel filter designated for the Street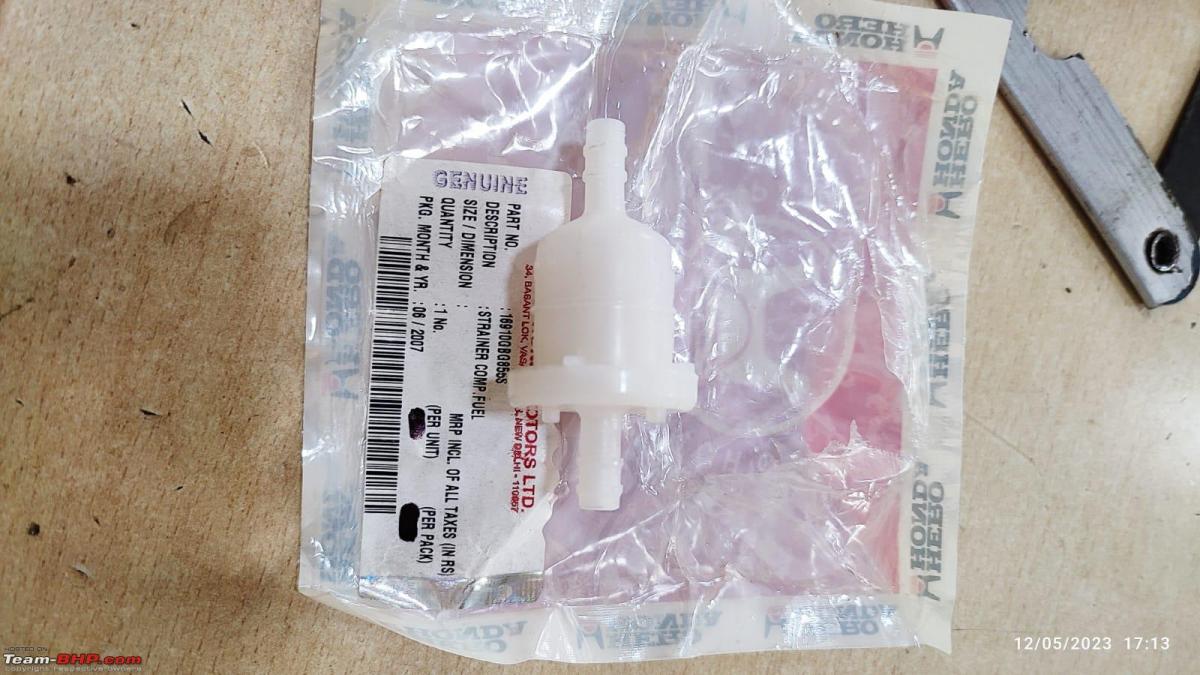 I wanted that "out of the showroom authentic look" – so sourced the caution sticker too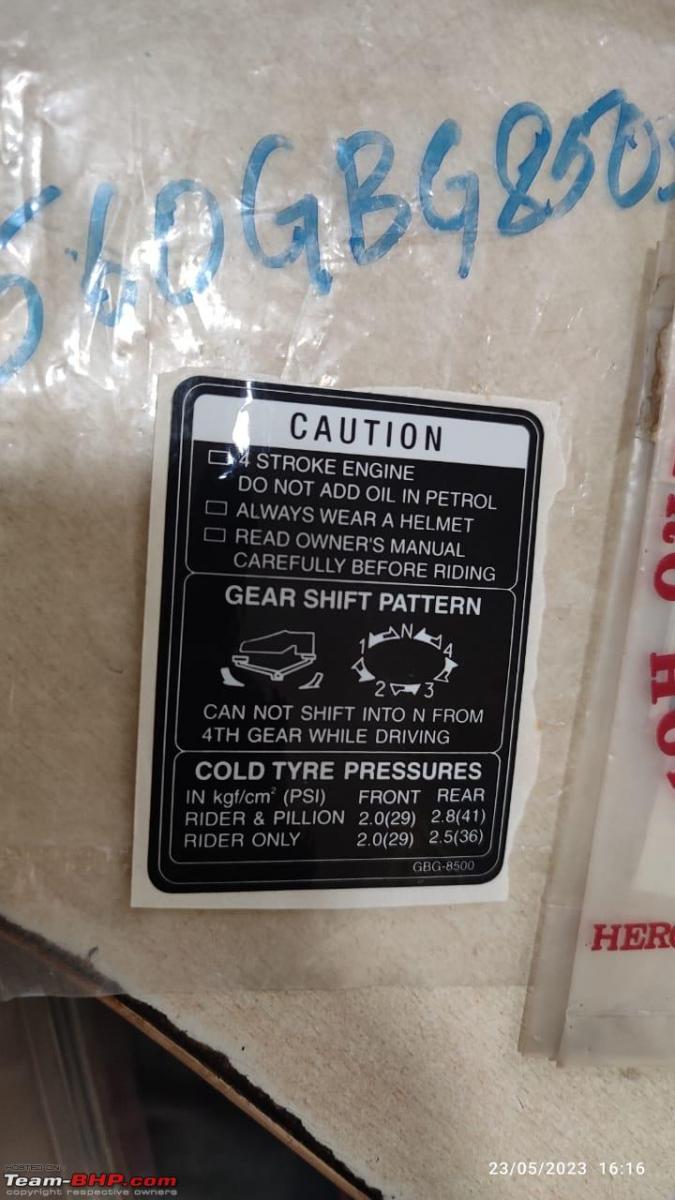 The self start switch unit – this was proving to be very elusive – but finally got it – the old one was broken
There was a slight jerking when changing gears – hence decided to change the original clutch shoes – which were pretty worn out and this made the ride completely buttery smooth
The Ignition key set – this was the only part i bought from Safex bikes and though i have heard horror stories of parts not being send – it arrived safely and though not an original part – works perfectly fine
The Ball racer set – changing this also improved the driving dynamics a lot
When I wasn't able to find fork oil seals I even toyed with the idea of using the front unit from the TVS WEGO. A Street from Trichur belonging to Fasils friend.
The original starter motor in the bike was out of commission for a long time and not working properly. It was not repairable also. A used starter motor of Hero Passion Pro was sourced along with a new battery and the starter zapped the bike to life in no time.
We hit a roadblock again as one of the forks was leaking and try as we might the fork oil seal was just not suiting. In one of the FB forums for Hero Street, someone suggested AX100 oil seals – viola it was the exact fit.
After almost a month from when all the work started the Street was finally out. Riding the bike was a revelation. It was buttery smooth and roly-poly me in a bright red bike was a sight to behold for everyone. Many had not seen a street before, and a few asked me if it was a "modified M80". Though I haven't properly checked the fuel efficiency, the fuel gauge simply refuses to go down so much so that I thought the fuel gauge was not working.
This one sure is for keeps. More than the fuel efficiency it is the non-hurried and buttery nature of the engine that has me floored.
Have changed a few other parts also – for which I don't have pictures. The next important stuff is the front tyres – which need to be changed. searching around for this.
A few pics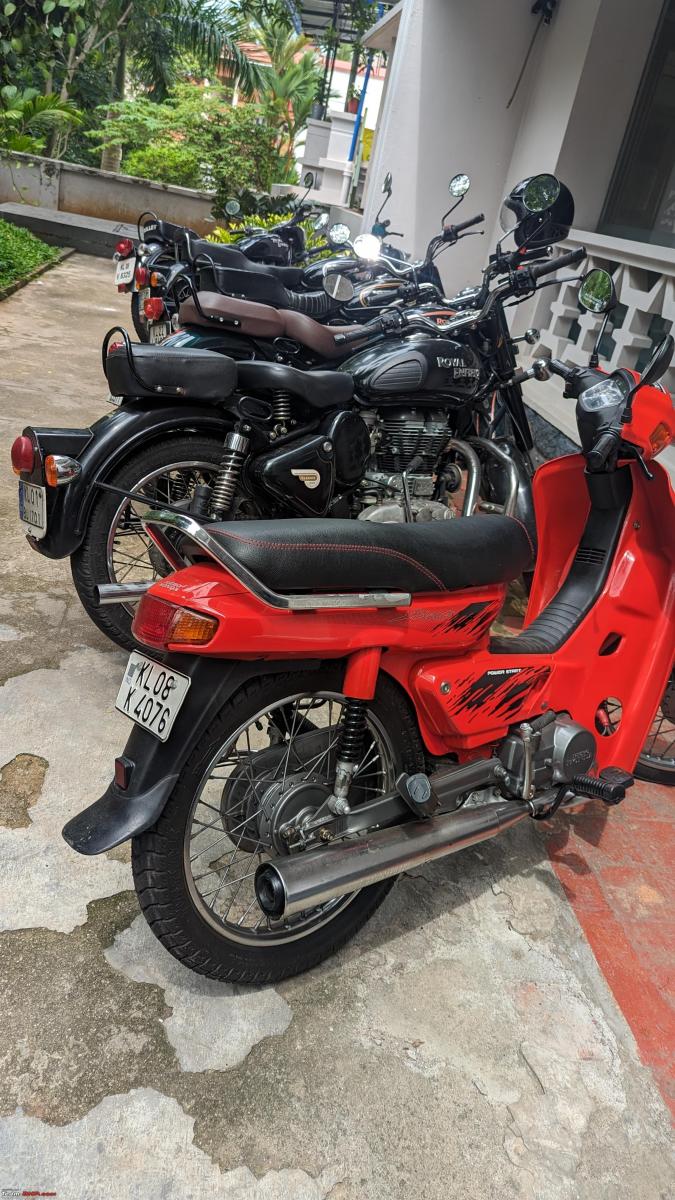 Check out BHPian comments for more insights and information.
Source: Read Full Article