Which 7-seater would you choose in the Indian market? and why?


Tata Safari Facelift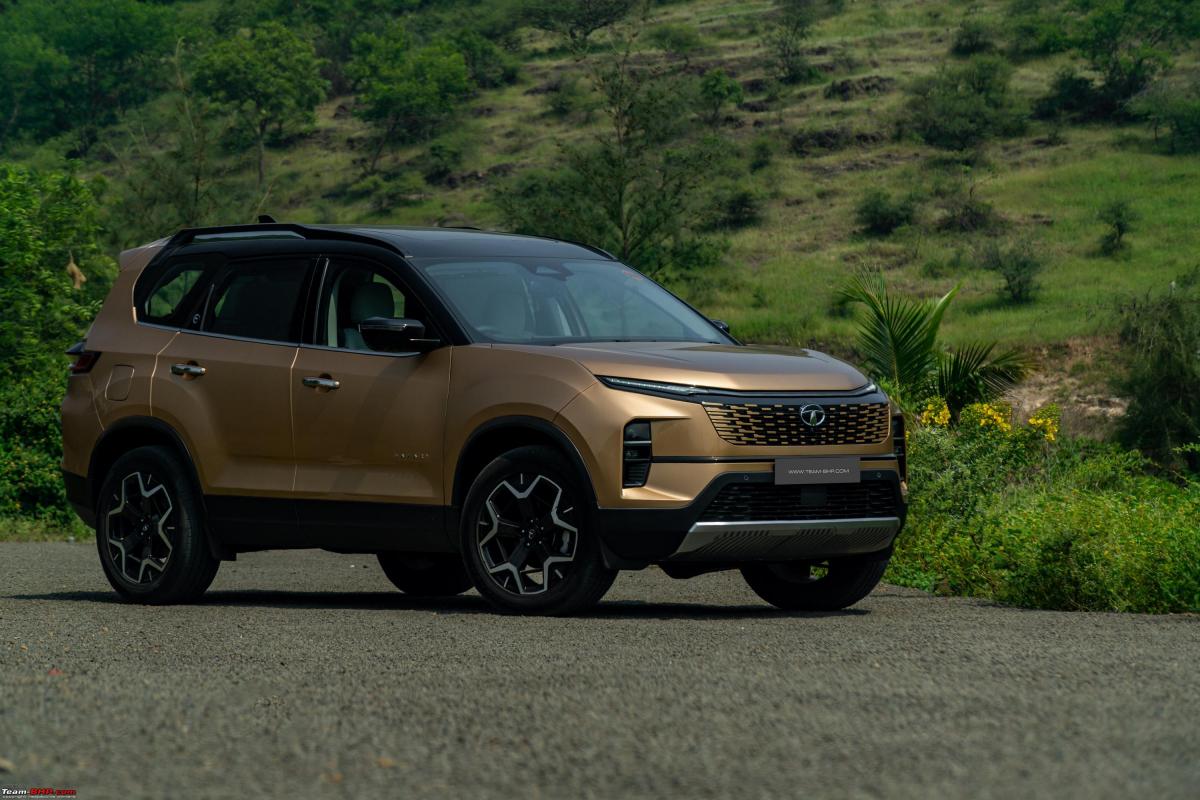 Review Link
Mahindra XUV700
What you'll like:
Handsome styling matched to solid build quality. Has street presence, feels robust
Very spacious interiors with comfy seats and sorted ergonomics. 6-footer passengers welcome!
182 BHP turbo-diesel & 197 BHP turbo-petrol make for a potent line-up
Smooth 6-speed torque converter Automatics available with both engines
Sorted suspension with good road manners & high-speed stability
AWD is available for the adventurous, unlike most FWD crossovers in the segment
Loaded with features like radar-based driver assistance system, pop-out door handles, panoramic sunroof, driver memory seat, 360-degree camera, 10.25″ infotainment & instrument cluster etc.
12-speaker Sony audio system is fantastic! You'll enjoy its sound quality
Safety features include 7 airbags, ESP, all-wheel disc brakes, hill hold, hill descent control, driver drowsiness detection, TPMS, ISOFIX…
What you won't:
Negligible boot space with the 3rd-row seat up. Either 5 on-board or 7 with a roof-top carrier
Cramped 3rd-row seat is best suited to children only. A sliding middle row is sorely missed
Petrol AT is thirsty due to its hefty weight, 197 BHP & torque-converter AT
Some cabin plastics & a few rough areas don't feel premium in an otherwise loaded SUV
Missing features such as an auto-dimming IRVM, ventilated seats, paddle shifters, full-size spare wheel, ambient lighting, rear sunblinds…
Concerns over niggles & bugs in a freshly baked, complex Mahindra. We saw 2!
Mahindra's after-sales service is a hit or miss. Remains a gamble
AWD is available just with the Diesel AT, and not the MT or petrol motor
Review Link
MG Hector Plus
Review Link
Hyundai Alcazar
What you'll like:
A 3-row family car that's well-built inside out
User-friendly interiors look really good (brown shade is awesome) and have quality parts
Economical 1.5L diesel is available in MT & AT variants. Offers good driveability
Comfortable ride quality with neutral road manners
Unladen ground clearance of 200 mm is perfect for Indian roads
The Alcazar's safety package includes 6 airbags, ESP, all-wheel disc brakes, auto-hold, TPMS etc.
Impressive kit (fully digital instruments, 360-degree camera, 2nd-row wireless charger, panoramic sunroof, paddle shifters, Bose sound system, cooled seats & loads more)
Hyundai's competent after-sales service & wide dealer network
What you won't:
Oddball love-it-or-hate-it face. We find the Alcazar's front design to be weird & overdone
2nd-row legroom is mediocre (captain seat variant). Compromises have been made to accommodate the 3rd-row & boot
3rd-row seat is best suited to kids only. Not really a place for adults
Rs. ~3 lakh OTR premium over the Creta on the higher variants is too much!
Diesel's 113 BHP & 250 Nm – although adequate – are the lowest in the segment
Competitors like the Tata Safari & MG Hector Plus offer way more spacious cabins
Some misses (no petrol AT 7-seater variant, auto wipers, illuminated window buttons, full-size spare tyre on top trims etc.)
Review Link
Kia Carens
What you'll like:
Fresh styling that will appeal to a larger audience (unlike the polarising Alcazar)
A practical & sensible 3-row family car that's well-built. The 3rd-row seat is actually useable
User-friendly interiors look really good (blue shade is awesome) and have quality parts
Economical 1.5L diesel is available in MT & AT variants. Offers good driveability
Impressive ride quality with neutral car-like road manners
The Carens' safety package includes 6 airbags, ESP, all-wheel disc brakes, TPMS etc as standard.
What you won't:
3-star GNCAP safety rating is disappointing (related discussion)
2nd-row legroom is just ordinary, despite the seat travel of the 1st-row being restricted
Diesel's 113 BHP & 250 Nm – although adequate – are the lowest in the segment
Some niceties missing vs the Alcazar – no 360-degree camera, no full virtual dials, no panoramic sunroof
Competitors like the Tata Safari, MG Hector & XUV700 offer way more spacious cabins
Review Link
Mahindra Scorpio-N
Review Link
Toyota Innova Crysta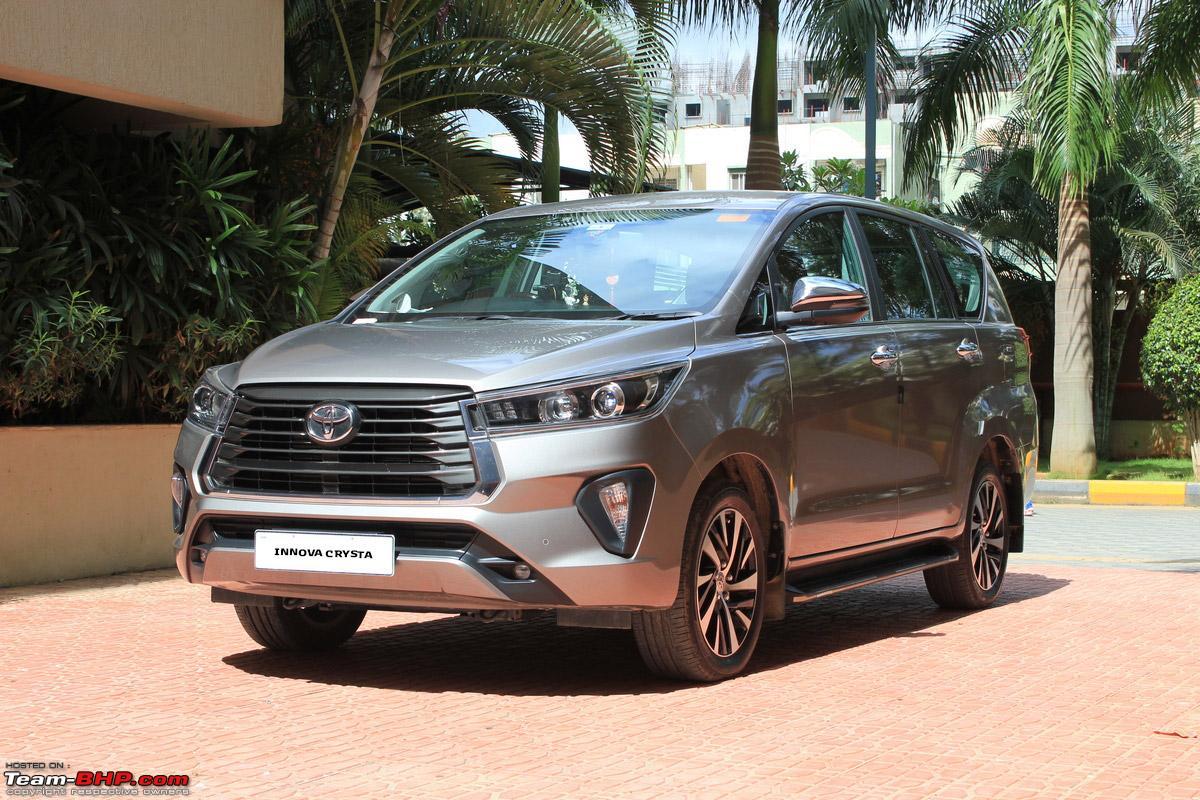 What you'll like:
Indestructible build & durability. The Innova is known for its bullet-proof reliability
Spacious, flexible & practical cabin. An extremely comfortable long-distance commuter
Upmarket interiors. The ZX AT variant is very plush
148 BHP diesel engine is powerful enough and gets user-selectable driving modes
Balanced suspension & road manners. High-speed stability is rock-solid
Top-notch safety kit. 7 airbags, ABS, ESP, TC, Isofix & 3-point seatbelts for all
Feature packed! Leather seats, LED headlamps, mood lighting, cruise control & lots more
Toyota's excellent after-sales service and fuss-free ownership experiences
What you won't:
Hefty price tag!
Top ZX variant is unavailable with a middle-row bench seat (8 seater)
The lower variant's interior looks too basic
Heavy steering at parking / low speeds. Can get cumbersome in the city
Poor sound quality from the ICE. Cheap speakers beg for an upgrade
Review Link
BHPian rajeshsundaram's Review Link
Here's what BHPian MotorDev had to say on the matter:
Voted for the XUV700. Why?

The XUV700 offers a diverse range of engine options, comes at a lower price than the Safari facelift, and provides similar features.
While I admire the Safari facelift's design, the exclusive availability of a diesel engine, ergonomic concerns, and minor issues mar the overall experience.
Moving on to the Hector Plus, the association with Chinese manufacturing affects its image despite its commendable feature set and value-for-money proposition. However, the third-row seating feels like a mere afterthought.
The Alcazar, while feature-rich, disappoints in terms of space. The second-row seating doesn't match up to the comfort offered by the Creta, and the third-row feels like it's there just for the sake of it. Furthermore, the Alcazar's styling doesn't impress me.
The Carens stands out as a well-rounded choice, excelling in various aspects except safety. It offers a variety of engines and is an attractive package overall.
The Scorpio N, although excellent for off-road enthusiasts, caters specifically to that niche market. Regarding comfort, the XUV700 takes the lead, while the Scorpio N shines in SUV capabilities.
Regarding the Innova, I find it relevant to mention the Innova Hycross, which stands out as a strong contender. The Innova Crysta, on the other hand, feels outdated. The Innova Hycross proves to be a great family car with a substantial feature set.
Additionally, when considering the options, it's crucial to include the Invicto in the discussion.

In summary, my preference ranks the XUV700 at the top, followed by the Safari facelift in second place, and the Innova Hycross in third.
Here's what BHPian FAIAAA had to say on the matter:
Voted for XUV700

Well said Motordev. You have covered most points. In addition:
Xuv700 has optional AWD (still feel an SUV should have 4*4/ AWD else it's a crossover) and while both Indian manufacturers have QC issues, inconsistent quality, and ASS, I would lean towards Mahindra over Tata
Hector Plus – no diesel automatic, CVT is not for enthusiasts and poor FE. Good ride but boat-like handling
Alcazar got its space management wrong, though having driven both Alcazar and its twin Carens, I feel the former has a more solid build.
Amazing all-rounder, but more MPV than SUV
Scorpio N is a true blue SUV in this list of SUVs and would lose out on the driving dynamics, feature set, and comfort of monocoques vs BOF.
Crysta / Hycross / Invicto – I am amazed at the space management in the latter 2. Also petrol hybrid is a great option for those in NCR. A great option for those considering a MUV

So, in summary:

Scorpio N if you are looking for a true blue SUV
XUV700 or Safari for a premium crossover
Crysta or Hycross/ Invicto for large MPV
Carens for mid-sized MPV
Here's what BHPian shancz had to say on the matter:
Voted Safari.

Why? If I am thinking of 7 seaters then I am thinking primarily for the passenger comfort and I am already way outside my comfort zone of size and heft.
So why not go the whole hog and get the latest of the most experienced one which looks better than the rest IMHO?
Although I would stick to lower trims, at most the Adventure AT, skipping some unnecessary tech and those 19 inches.
Possible deal-breakers could be the knee-console issue, the A-pillar blackspot, and the general performance of the "glass cockpit".

Fallback option: Innova Hycross
Here's what BHPian CEF_Beasts had to say on the matter:
My vote goes to the 'Crysta'.

I'll just say this, there are very very few SUVs / MUVs that can stand the test of time like a BoF, RWD Toyota can, period.
A very close second for me would belong in the 'Others' category: The Innova HyCross.
I'm not someone who buys a car based on its features, I prefer a complete package that a car and its brand has to offer.
A reliable, no-nonsense, cheap-to-maintain, fuel-efficient, sufficiently powerful, spacious, and decently safe is the package that I like and apart from the Crysta or HyCross, I don't see any other car fulfilling all these criteria at least for me.
I have put my money where my mouth is at least for now, by booking the HyCross and plan to retain my BoF Diesel Toyota till the time the government doesn't forcefully take it away from me…
Check out BHPian comments for more insights and information.
Source: Read Full Article