Nothing is the color I expect it to be. The craggy rocks are dark like charcoal and dappled with a mosslike plant that's tan, and I am about to go for a swim in water that is a milky baby blue. I'm in Iceland for the inaugural sailing of the Norwegian Prima, the premiere ship in Norwegian Cruise Line's (NCL) first new class in nearly a decade. The 3,100-passenger Prima is sailing out of Reykjavik, which roughly translates to "smoky bay" or "bay of steam."
I decide to get an up-close experience with that steam and book an NCL excursion to the Blue Lagoon, one of Iceland's most popular attractions, where geothermally heated water is surrounded by lava hardened over hundreds of years.
I arrive at the lagoon after a 45-minute bus ride from the pier where the Prima is docked. I am given a white bathrobe and instructed to shower before donning my bathing suit, a prerequisite to enter the lagoon. Those of us with long hair are told to leave hair conditioner in and tie it up to protect our manes from drying out as we wade in the water. 
It's 57 degrees outside, and I disrobe, feeling every cool breeze whipping over the lava field as I walk toward the water. My toes initially sting from the heat, but within moments I'm fully immersed in the lagoon. The water is warm and welcoming as I watch steam blow across the surface.
A staffer from the lagoon tells me there is silica in the water, along with algae, seawater and fresh water. The silica is a compound of lava said to be good for the skin. The algae that grows here is one of the rarest in the world, a novel species of blue-green algae cultivated at the Blue Lagoon's research center. The other minerals are from 100-degree water channeled into the lagoon from 2,000 meters beneath the Earth's surface.
Related: Retreat takes Iceland's Blue Lagoon to the next level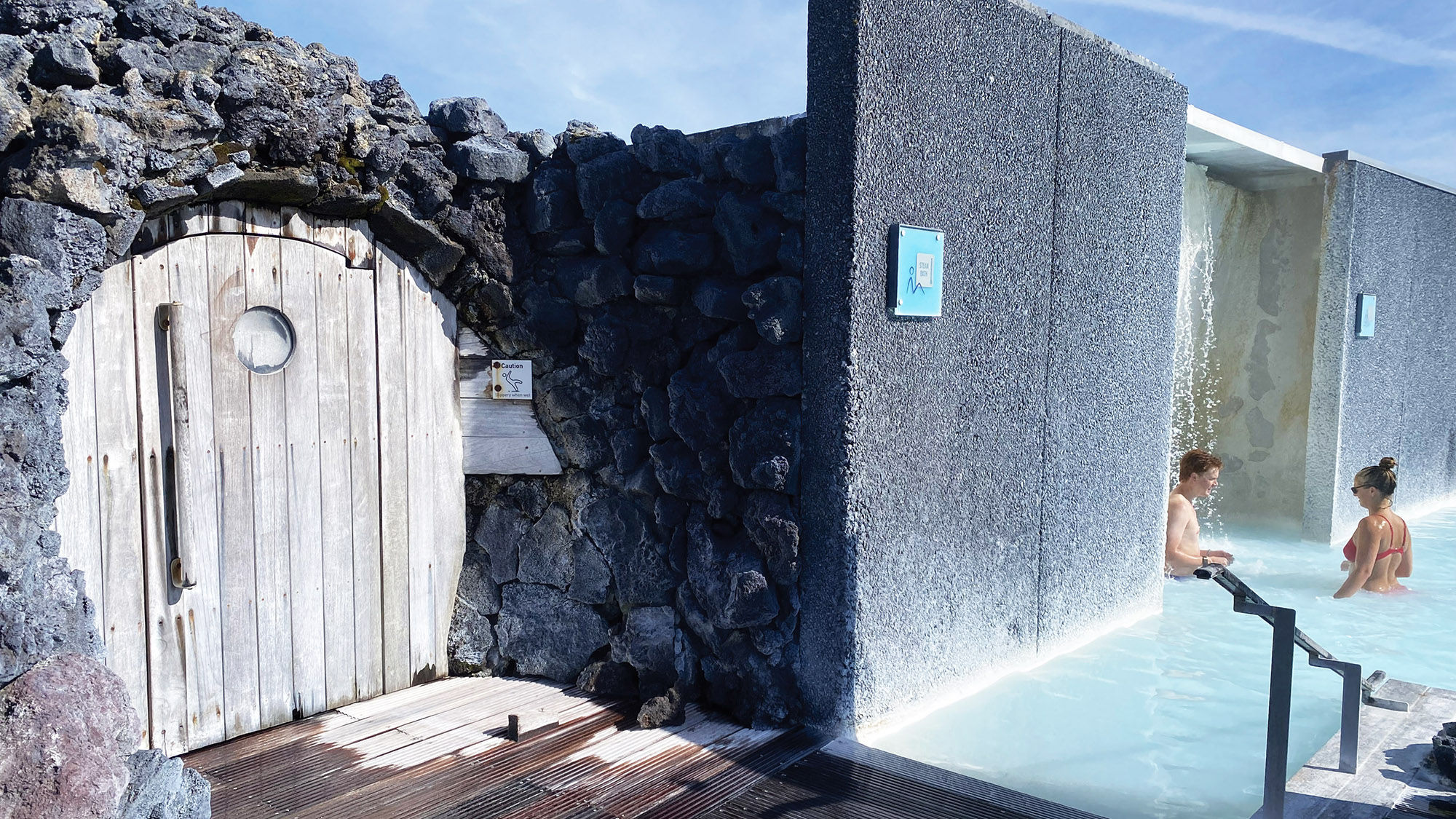 Aqua water, green smoothie
I make my way to the bar, a small hut with two windows. I have the option of beer, cider, wine, sodas, lemonade, Gatorade, juice, water and smoothies. I choose a smoothie of banana, mango, spinach, ginger and orange juice; it's refreshing to sip as I slowly wander.
The milky aqua water isn't so hot that I sweat but warm enough that I don't want to leave. The color is so dense I can't see my legs.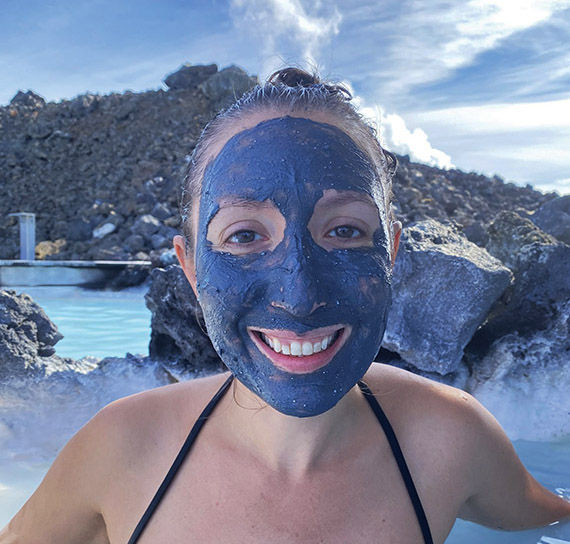 As I roam with my green smoothie, I see people with blotchy white mineral masks smeared across their faces sipping beers or resting in the water. They look silly and almost jarring in such a tranquil place, but there are so many people in these creamy white masks that I want in on this face painting.
There are four types of masks, and I start with a grainy, black lava scrub. The mask dealer spoons me a dollop of the stuff, and I smear it across my face. She tells me to keep it on for five minutes, and I entertain myself with selfies to pass the time. This exfoliating mask will remove dead skin cells and leave my skin "fortified and revived." It takes an effort to rinse it all off, which is aided by a few mirrors stationed at the edge of the pool.
Next is the silica mud mask, a purifying mixture that promises to minimize the appearance of pores and leave my skin "clear and mattified"; that is, less shiny. I wipe a handful of this creamy, white mask onto my face, although I should have put it on faster because the consistency shifts to that of Elmer's glue and then of damp chalk. I get it all on and wait 10 minutes.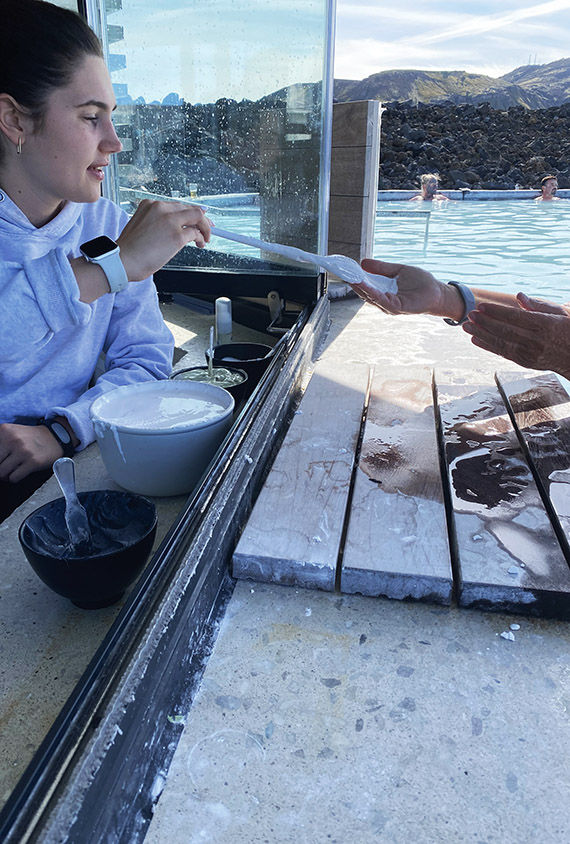 When I'm done, the mask bartender says I should rinse the mask off with lagoon water to benefit from its minerals. 
I then have a choice of the final mask: One is made of algae that stimulates collagen production and is coined the anti-aging mask. A 26-year-old near me washes off her mask and jokes she must now look like she's 5. 
I go with the other, a hydrating mineral mask that is supposed to leave my skin smooth, and I'm told to wear it as long as I want. I wear it for about 20 minutes as I stroll around the pool and find an in-lagoon shower and a steam bathhouse built into the lava rock. 
As I board the bus and head back to the ship, I check out my complexion. I look refreshed and my face glows, though I'm unsure of whether that's because of the masks or having had a few hours to treat myself to such beauty. Maybe it's both. 
Source: Read Full Article